Posted by Manny on Saturday, Dec 31, 2022
With the deluge of great new titles published over the last year, some potential new favorites may have escaped your notice. So Iowa City Public Library Staff members voted on the best books that came out in 2022 and whittled down to a collection of can't-miss books for the year across nine categories. There's sure to be a book on ICPL's Best of the Best 2022 list that will set you on the path to a reading adventure in the new year. Browse the list of winning titles below.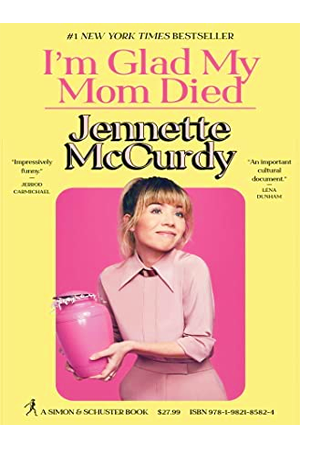 by Jennette McCurdy
Biography / Memoir
The #1 winner with the most votes was I'm Glad My Mom Died by Jennette McCurdy!
In her memoir, I'm Glad My Mom Died, actress Jennette McCurdy relates what it was like to have a mother who weighed her five times a day and bathed her till she was a teen. Eventually, McCurdy overcomes her resulting mental health struggles and decides for the first time what she wants.
#BestOfTheBest22
by Gregory Maguire
Children
Gregory Maguire's Cress Watercress is a tale both sweet and sad, examining the life of a young rabbit whose family is forced to move into a tumbledown apartment oak. Can a dead tree full of annoying neighbors ever be home?
by Ed Yong
Nonfiction
Ed Yong's An Immense World, which lets us into a previously unknown dimension: the world as it is truly perceived by other animals. Learn of songbirds who can see the Earth's magnetic fields and beetles drawn to fireworks in this compelling read. 
by Ashley Herring Blake
Romance
In Ashley Herring Blake's Delilah Green Doesn't Care, the titular character finds herself back in her ho-hum hometown. But when she's forced together with local Claire in a plot to save a friend from a terrible fiancé, sparks fly.
by Becky Chambers
Sci-Fi / Fantasy
 
 A Prayer for the Crown-Shy by Becky Chambers is a hopeful sci-fi novel featuring a Tea Monk and a robot touring the cities of their little moon and asking big questions.
 
by Nita Prose
Mystery

Nita Prose's The Maid, an original debut in which a charmingly odd hotel maid finds a guest murdered in his bed, inspiring a ragtag crew of unexpected allies to band together to solve the mystery.
 
by Lauren Haldeman
Graphic Novel

Lauren Haldeman's Team Photograph combines poetry, memoir, and history in a graphic novel that examines the legacy of the Civil War battlefields in her hometown.
 
by Casey McQuiston
Young Adult
After seventeen-year-olds Chloe and Shara, Chloe's rival for valedictorian, kiss, Shara vanishes leaving Chloe and two boys, who are also enamored with Shara, to follow the trail of clues she left behind, but during the search, Chloe starts to suspect there might be more to Shara and her small Alabama town than she thought.
by Emily St. John Mandel
Fiction
Emily St. John Mandel's Sea of Tranquility is a novel of art, time, love, and plague that takes readers from an island off Vancouver in 1912 to a dark colony on the moon 300 years later.
 
Categories