Posted by Kara on Monday, Sep 18, 2017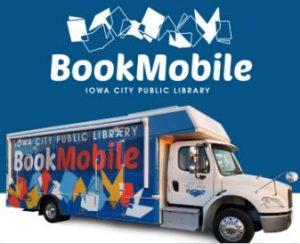 In order to assure safe Bookmobile services for community members and staff, the Library established severe weather guidelines to guide decisions in case of severe weather.
The Bookmobile may be off the road for part or all of the day when there are hazardous driving conditions such as low visibility, heavy rains, excessive wind gusts, and high wind warnings.
The Bookmobile will not operate on days when inclement weather would result in hazardous driving or service conditions, including any day the Iowa City Community School District cancels classes due to weather.
In the event of a Severe Weather Warning when the Bookmobile is on the road, Bookmobile operations cease and all patrons must exit the vehicle. The Bookmobile will either return to the Downtown parking facility or staff will secure the Bookmobile and seek shelter.
SEVERE WEATHER WARNINGS ARE ISSUED AND SIREN SOUNDS FOR:
Tornado          · 70 mile or greater per hour winds          · Golf ball-sized hail
Schedule updates are posted on the Library's webpage at icpl.org/bookmobile and calendar.icpl.org. Schedule information is also available by calling the Library at 319-356-5200 during regular Library hours.
Categories
Recent News