Posted by Heidi K on Friday, Feb 2, 2018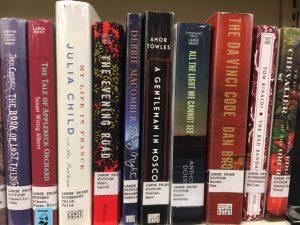 The Deposit Collections are not a well-known Outreach offering of the Iowa City Public Library, but they provide a fun "mini browsing" experience for residents of Melrose Meadows Retirement Community, Oaknoll Retirement Community, and Oaknoll's Health Center. Retirement and assisted living facilities in Iowa City, Hills, University Heights, and Rural Johnson County are eligible to borrow 30 Large Print books from our collection every 9 weeks. Community & Access Services works with Maintenance to ensure these temporary browsing collections are delivered and switched out on time.
I love choosing which 30 books get the honor of making the trip to each facility. Since one of the library's purposes is to provide information and entertainment that appeals to a variety of interests and tastes, I am sure include a variety of popular literary fiction, mysteries, romances, westerns, and nonfiction. I am also careful not to send the same books out over and over, aiming instead to send a new batch each time.
Responsibility for the Deposit Collections rests with the institutions that host them, since they are loaned items and not donations. If a prospective outreach site feels they do not have a controlled enough environment to keep track of loaned books, they may choose to receive gift books instead. For more information about Deposit Collections and Outreach Libraries, you can contact me at Heidi-Kuchta@icpl.org or by calling me at 319-887-6038.