Posted by Stacey on Wednesday, Mar 30, 2016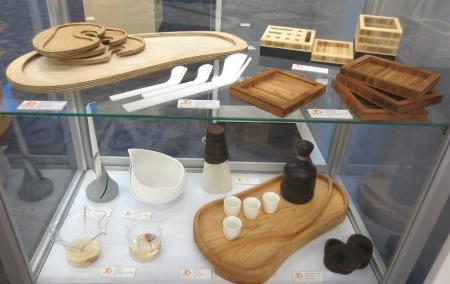 Have you seen the current display on the second floor of the library?  The amazing variety of lamps, vases, trays, interior design plans, and other items of functional design were made by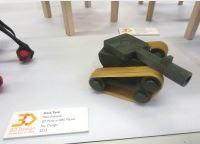 Professor Monica Correia and her 3D design students at the University of Iowa.  Everything is breathtaking, but the 3D printed tank that stores rubber bands is funny, too.  If one of the items inspires the maker in you, a selection of design books are on display nearby.
This 3D design exhibit is here until mid-April to coordinate with Monica Correia's Mission Creek talk on Saturday, April 9 at 1:00pm in the Iowa City Public Library.  Her lecture is titled "Digital Technology in the Process of Making Design to Connect" and admission is free.
Other upcoming community displays include the Awesome Autism Awareness and Acceptance Art Project (April 19-May 15), resources for Sexual Violence Awareness Month (RVAP, April 1-21), and a promotion of the Festival of Flowers (United Action for Youth, April 25 – May 25).  And I hope you caught the impressive exhibit of UI Scottish Highlanders memorabilia last month!
If your group would like to have a display at the Iowa City Public Library, please contact me at stacey-mckim@icpl.org or (319) 887-6025.  Display guidelines can be found at http://www.icpl.org/displays.
Recent News