Posted by Anne M on Tuesday, Jul 25, 2017
On February 28th, 1991, in the "B" section of the Iowa City Press-Citizen, there is this small article: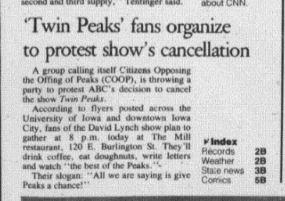 Yes, Iowa City held a protest...well, more like a letter-writing party at The Mill to push ABC to change the network's mind on cancelling Twin Peaks (1990-1991), the television series created by Mark Frost and David Lynch. The show was like nothing else on television at the time. (I was watching TailSpin and Rugrats at this time in my life, so I don't speak from memory but reviews). Twin Peaks was watched, talked about, and had pretty decent ratings. However, during the second season, the show was losing its audience and ABC decided to pull the plug. Lynch called on the show's fans to write to the network and Iowa City's chapter of the Citizens Opposing the Offing of Peaks (C.O.O.P.) delivered.
But they didn't stop there.
This weekend, while catching up on my weekly chores, I listened to some podcasts and heard something pretty amazing. On the July 19th episode of Pop Culture Happy Hour, NPR's Eric Deggans, Stephen Thompson and Glen Weldon sat down with The Verge's Tasha Robinson to discuss what they think about the new Twin Peaks reboot (Showtime). When sharing their love of the original Twin Peaks, Ms. Robinson said:
[I] actually recorded a novelty song about Twin Peaks when it was cancelled in 1991 and not only sent it to the network, but [it] came up number one on Dr. Demento's Funny Five back when Dr. Demento was a thing. It was called Give Peaks a Chance.
When it was cancelled, a friend of mine actually organized a huge fundraiser to, again, try to bring the show back. We actually brought in Harry Goaz, the actor who plays Deputy Andy to Iowa City, Iowa and he signed autographs and seemed very happy to be in a place where he was the biggest celebrity in the city.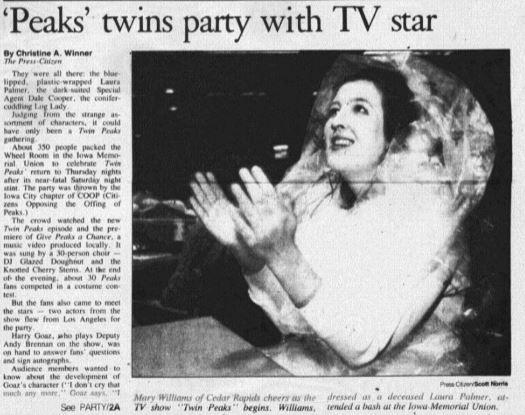 This is all true. At the time, Tasha Robinson was a student at the University of Iowa (verified by the university's student/faculty/staff directory of 1990-1991). On Thursday, March 28th, 1991, Iowa City's chapter of C.O.O.P. held the fundraiser Robinson discusses. And yes, Harry Goaz (Deputy Andy) and Frank Silva (Killer BOB) came. According to the Daily Iowan (3/25/1991), Bob Cappel, IC's C.O.O.P. president and chairman, booked the actors with the assistance of David Lynch and Mark Frost. Cappel told the D.I. reporter, "I think it's great that Lynch/Frost Productions does this kind of think for their fans. Of course, they probably get a chuckle out of the fact that we're from Iowa."
The party was held at the IMU, included a costume contest and a screening of episode 2013, which Iowa City missed 30 minutes of because it was preempted by an Iowa basketball game. According to the Press-Citizen (3/29/1991), about 350 people attended the event. It made the front page of the Press-Citizen! (Oddly, not the Daily Iowan, which relegated this news to the seventh page, deciding to highlight a protest march in Moscow, a citizens group's concern over the Johnson County budget, and UI power plant safety violations).
And then there is the song. Yes, there is a "protest" song and it debuted at the party. Attributed to DJ Glazed Doughnut and the Knotted Cherry Stems, Give Peaks a Chance was created by a 30-person group. It sounds exactly as Mr. Cappel describes it: "We're students with too much equipment on our hands." The song did have a national reach. It played on Dr. Demento and, according to the DI, on stations in New York.
Another interesting tidbit: while Deputy Andy signed autographs, Killer BOB was taken down by a case of chickenpox and stayed at the hotel. One fan told the Press-Citizen (3/29/1991), "I wanted to see BOB real bad...I called a couple of hotels, but they wouldn't tell us anything."
Interested in confirming a local story? Use our Local News Index, which provides the dates of stories from the Press-Citizen from 1962 to the present, making microfilm searching much easier. You can find articles from the Press-Citizen in our microfilm collection (comprehensive coverage), Newspaper ARCHIVE (sporadic coverage between 1920-1973), or ProQuest Newspapers (2002-present). Or ask us at the Information Desk. We are happy to help!
For our purposes today, the following newspaper articles were consulted:

Recent News