Posted by Heidi K on Monday, Apr 29, 2019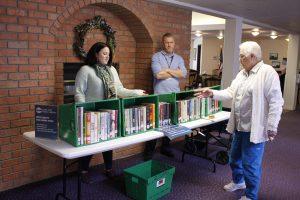 In fall of 2018, Iowa City Public Library piloted a Lobby Stop Program at four different retirement residences to expand our Outreach offerings. I have been visiting Walden Place, Emerson Point, Legacy Assisted Living, and Bickford Senior Living on a twice monthly basis ever since. The west side Lobby Stops are every 1st and 3rd Monday afternoon, while the east side Lobby Stops are every 2nd and 4th Monday afternoon.
At each Lobby Stop I bring about 5 bins of popular book and book-on-disc titles for browsing or check-out. I can also bring specific holds or honor general requests (e.g. quilting books, biographies, magazines.) I use a staff laptop for checking things out and creating library accounts. Lobby Stop patrons are welcome to sign up for the At Home Services, which is ICPL's free books-by-mail program for people who are home-bound due to disability. One thing that has been very rewarding about providing Lobby Stops is that I have been able to meet several long-time At Home patrons who I previously only emailed or talked on the phone with. It is so nice to be able to put a face with a name!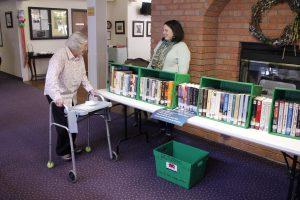 Lobby Stops have definitely increased access to library services for residents of these retirement homes. In April, I checked out 59 items through the Lobby Stops and had 68 visitors total. I have talked to many people who moved to Iowa City for assisted living and haven't had access to checking out books since leaving their home town. About 30 people so far have received their first library card in the area through the Lobby Stop service. I work with the different activities specialists at each site to provide Lobby Stop services. The site provides a large table in a common area and some kind of advertisement for residents of when and where the Lobby Stops will be held. Staff and residents alike enjoy the fun community atmosphere of the Lobby Stops. I personally love learning about the unique interests of the different patrons at each site.