Posted by Stacey on Friday, Oct 5, 2018
When you're downtown for the Iowa City Book Festival and Gallery Walk this weekend, make sure to stop in the library to take in some fresh displays: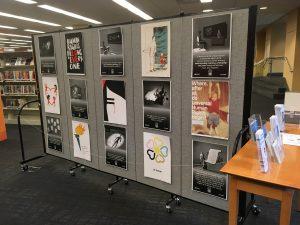 Universal Declaration of Human Rights:  This moving community display created by the Iowa United Nations Association will catch your eye on the 1st floor. A celebration of the 70th anniversary of the Universal Declaration of Human Rights, it features unique posters from a UNESCO exhibit shortly after the Declaration was adopted by the UN General Assembly in 1948, interspersed with modern interpretations.
Book Fest authors: There's still time to check out a book by a visiting author before you attend their reading!  You'll find the last few available books on this 1st floor display.
Art-To-Go:  In honor of the Gallery Walk, librarian Candice Smith has selected several pieces of our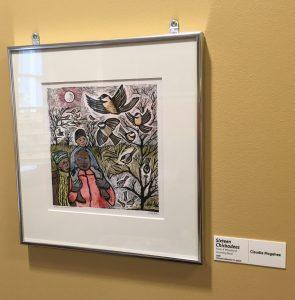 circulating artwork to showcase on the 2nd floor of the library.  Information about the pieces and artists are included.  Do you know where the originals are housed, in galleries around the world?
Westgate Collection: The Westgate collection of original children's book art was donated by nationally known authors and illustrators of children's books, and now features new additions from local illustrators Claudia McGehee and Jennifer Black Reinhardt.  You'll find the artwork throughout the Children's Room.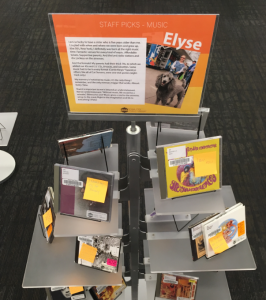 Staff Picks - Music:  Why not grab some CDs when you're here getting books?  This month kicks off a series of music displays from staff members, with favorites from Jason (who works in Adult Services and chooses our new music CDs) and Elyse (who works in the library's Business Office).
Bailing Out Benji: Take a look at this 2nd floor community display created by Bailing Out Benji, a small, non-profit organization that is dedicated to educating the public regarding the puppy mill industry. This display provides visual data and information about puppy mills in Iowa, with a focus on data and not shocking imagery.
Silent Witnesses: October is Domestic Violence Awareness Month, and you'll find a community display created by the Domestic Violence Intervention Program on the 2nd floor.  The Silent Witness display includes life-sized cut-outs of victims who have lost their lives to intimate partner violence, with real stories of lives lost.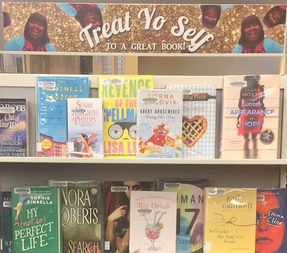 Treat Yo Self to a Great Book:  If you haven't seen Parks & Recreation, you should know that October 13 is Treat Yo Self Day.  Go wild. Get a guilty-pleasure book or something to read instead of being productive.
Celebrity authors:  Sometimes celebrities write books, and we pulled some of those together for you.  Check out books written by actors, athletes, politicians, YouTube stars, comedians, and more.
The Great American Read: Even if you haven't been watching PBS's eight-part series about America's favorite novels, you can still enjoy a popular book off this display and pick up the list of America's 100 best-loved novels (as chosen in a national survey) to see how many you've read.  There's still time to vote for your favorite before the series finale on Tuesday, October 23, which we'll show live in Meeting Room A from 7-9pm.