Posted by Casey on Friday, Dec 28, 2018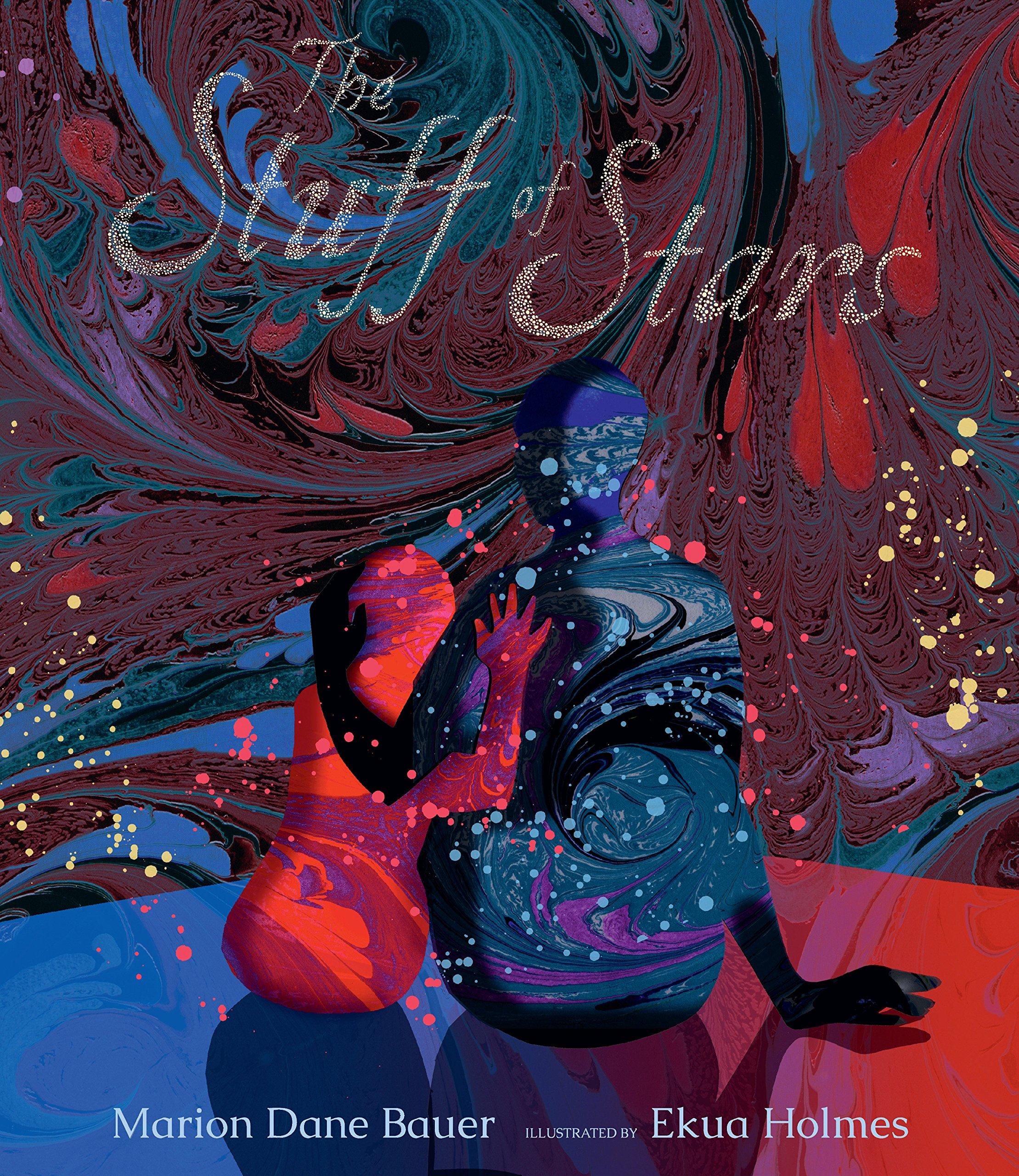 This week's Mock Caldecott title is "The Stuff of Stars" written by Marion Dane Bauer and illustrated by Caldecott Honor winner and Coretta Scott King Award recipient, Ekua Holmes. In short, this is a book about the birth of the universe, told through verse and hand-marbled paper collages. The simplicity of the text paired with the elegant humility of the marbled collages transform this from a scientific story about the birth of our universe into a timely story about that which intrinsically links humanity.
It opens "in the dark, / in the deep, deep dark" before time and space and follows "a speck [,]/ invisible as thought, weighty as God" through the big bang, the births and deaths of countless stars, the subsequent creation of planets and the evolution of life on Earth. All the while, the free verse conveys information about evolution in a concise, digestible format and Holmes's illustrations soar.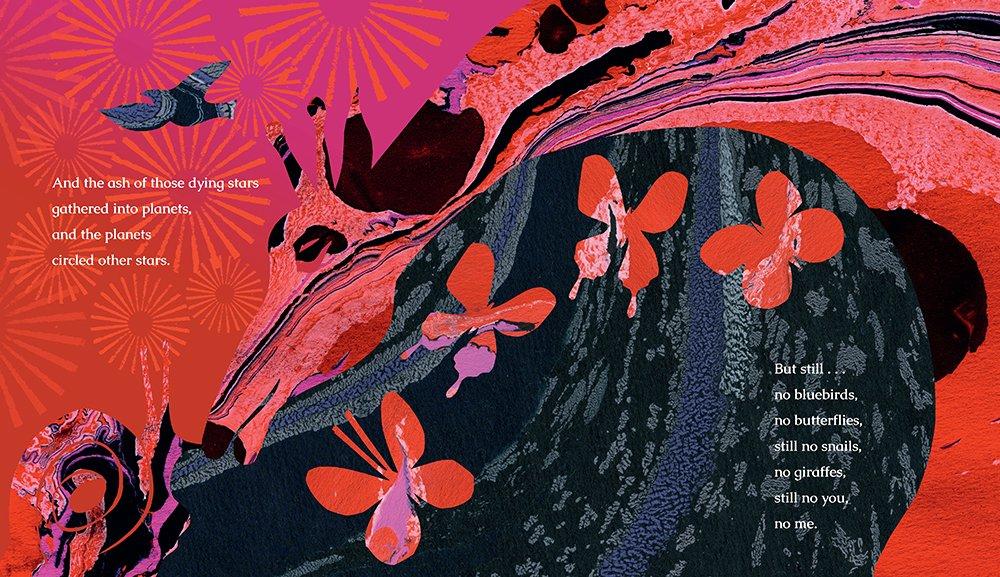 Each one of her collages is a celebration of the universe and life itself, both mirroring and augmenting the text in a way that enhances the story. I cannot help but draw visual similarities between her fabulous marbled collages and Hubble Telescope images. The first time I read it I found myself reaching out to touch her collages, they all have such depth. However, what really surprised me about this book was the way Holmes's art truly captures the Big Bang and creation of life. Her use of collage and paper marbling is incredibly innovative and singular. On top of this, her understanding of forms is truly unparalleled--she only has to hint at a shape for the reader's eye to see a giraffe, a snail, a lion, a whale.

gr_holmes_illus_600px.jpg?resize=600%2C346&ssl=1 There is a focus here that is universal rather than about the universe, that Bauer and Holmes hone in on from the outset. The free verse often feels like it has been left open, waiting, for the creation of humanity, and Holmes showcases lifeforms before the creation of life, hinting at the future. Bauer echoes the Big Bang in our creation: "one day.../ in the dark,/ in the deep, deep dark,/ another speck floated,/ invisible as dreams,/ special as Love." She reminds us that everything we do is connected to one another and to the larger shared history of our cosmos--"All of us/ the stuff of stars." Holmes again, echoes this fabulous prose with phenomenal artwork highlighting our cosmic origins while uniting humanity with a literal embrace.
I have really enjoyed Ekua Holmes's art in her previous books, "Voice of Freedom" and "Out of Wonder",  but this one is truly exceptional. I was expecting something beautiful but I was not expecting a book that is basically an intersection of art and science, breathtaking, highly abstract, and yet tangible.
What do you think? Is "The Stuff of Stars" the most distinguished picture book of 2018? Let us know by voting in this year's ICPL Mock Caldecott by January 21st.
Categories