Posted by Stacey on Friday, Mar 30, 2018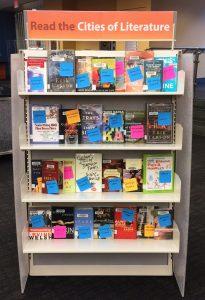 Representatives from the global Cities of Literature will be in town next week for their annual meeting.  While only one event is open to the public (a panel discussion about the cities' innovative programs on Thursday, April 5 from 5:15-6:00 at Hancher Auditorium), we're pretty excited about the chance to think about these twenty-eight cities with rich literary cultures.
Check out a book written by someone from another City of Literature off our display.  We have books by writers from most of the cities, including Durban (South Africa), Reykjavik (Iceland), Krakow (Poland), Lviv (Ukraine), and many more.
While you're at it, learn a little bit about why each city qualified from the nearby map.  For instance, did you know that Cole's Book Arcade in Melbourne was reputed to be the largest bookshop in the world at the turn of the twentieth century with two million books, and attracted the attention of visitors like Mark Twain?  How a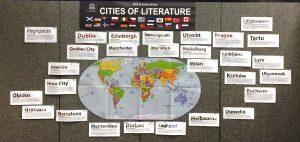 bout the fact that Norwich was home to the first female to write and publish a book in the English language?  Or that a Krakow bookstore has been continuously in operation at the same address since 1610?
The Edinburgh City of Literature website has excellent information about each city, if you want to learn more.