Callie
Callie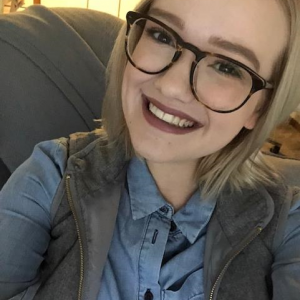 Interests:
Young Adult, Dystopian, Fantasy, Horror, Science Fiction, Suspense, Thriller, Graphic Novels, True Crime, Literary Fiction
About Me
Where Can You Be Found?
Callie can be found in the Teen Center on the second floor of the library!
What Do You Like to Read?
Callie likes reading ANYTHING that people recommend to her; she loves to get suggestions for great books to read. Usually, you can find her reading Young Adult fiction, true crime fiction and nonfiction, and thrillers. She always keeps a book on her, so make sure to ask what she is devouring right now!
Do You Have Pets?
Callie has two pet tortoises! The tortoises love to eat and aren't huge fans of of reading, but Callie hasn't given up hope for passing on her passion for literature to her shelled daughters.
What Are Your Hobbies?
In her free time, Callie loves cuddling up with a good book or graphic novel, writing, playing video games, and drinking tea. Her favorite thing in the world is cuddling up with a good book and a cup of tea or hot chocolate under a blanket.
Where Was Your Favorite Place to Read When You Were a Child?
When she was little, Callie's favorite place to read was in a hammock at her family's lake house in northern Wisconsin. She loved entering into the world of books while swaying in the breeze off the lake. So relaxing!