Lauren
Lauren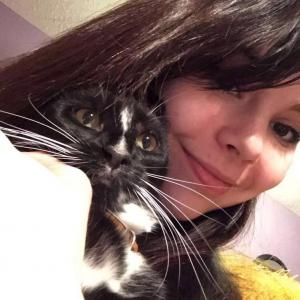 Interests:
Kids, Fiction, Young Adult, Graphic Novels, Fantasy, Romance
About Me
Title: Graduate intern in Children's Services
Where you'll see me in the library: At the Children's reference desk, at Minecraft programming, or helping out with other various children's programs
Do you have pets? I have 9 pets back in my hometown, 4 dogs and 5 cats. All the dogs are rather large, and they like to pretend to be intimidating. There are two German Shepherd mixes named Kylee and Shakira, an Australian Shepherd mix named Ozzy, and a Dobermann named Greta. The cats all have wildly different personalities and love to entertain by getting into trouble. The names of all the cats are: Yogi, Fonzi, Fritz, Ruby, and Lilo.
What are your hobbies? As a graduate student, my most popular pastime is homework, but it doesn't qualify as my idea of a fun time. My favorite hobby is playing board games and card games, the competition never ends. I also love to play tennis, play piano, and go hiking.
Favorite place to read as a child: I was guilty of reading everywhere I went including: the bus, the grocery store, during class, and at recess. However, my favorite place to read to this day is curled up in a comfy chair with a cat.