Lyndey
Lyndey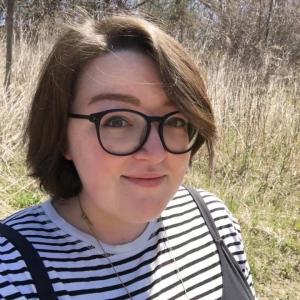 Interests:
Science Fiction, Technology, Dystopian, History, Humor, Art / Art History, LGBTQ+, Science, Graphic Novels, Crafts, Historical Fiction, Memoir, Literary Fiction, Short Story
About Me
Title: Library Assistant III
Where you'll see me in the Library: I work on the Information Desk, in the Digital Media Lab, and on the Switchboard. I also teach classes and run programming in the Digital Media Lab. 
What are your hobbies? I love the National Park System and I use my National Park Passport to collect and record all of my travels. I also love independent films, preserving and fermenting foods, listening to podcasts, playing board games, swimming in swimming holes, and exploring new cities. 
Share a surprising fact about you: I was born and raised in the tall pine forests of North Louisiana. Somehow I don't have a Southern accent, but I do say "y'all."
Where was your favorite place to read as a child? I loved to read with my eccentric grandmother in her creaky old home on Loggy Bayou. She read Edgar Allan Poe books to me as my bedtime stories and gave me a copy of Brave New World when I was 12. She inspired my lifelong love of science fiction, horror, and the unusual.