Last updated February 9, 2021
We are offering limited services. Community safety continues to be a Library priority and we will continue to adapt our services based on the changing public health conditions.
Jump to: Services | FAQs | Safety procedures | Reopening plan
Current services
All materials remain fine-free until June 30, 2021.
Available
Not available
Browsing the shelves
Bookmobile
Meeting rooms
Book donations
FAQs
General
Can I sign up for a library card while you're closed?
Yes! We can create library cards for local residents and most Iowa residents. Get started by filling out the form at icpl.org/register. We will email your card details within 1-2 hours, during library hours.
You can also come to our Lobby Grab & Go hours to sign up for a card. Those hours are Monday through Saturday 10am - 6pm and Sunday 12 - 5pm.
Where do I return items?
You can return items any time to the book drops at the Library downtown building on the Linn Street side of the building or at the remote book drops at the 1st Ave Hy-Vee and the GreenState Credit Union on Mormon Trek Blvd.
All items will be quarantined for 72 hours prior to check-in.
I miss browsing the Library collections. How can I get books when I don't know what to check out?
Check out our recommendation service: Staff Picks…Just for You! Fill out the online questionnaire and staff will surprise you with great finds. You can request a book bundle for pickup, or ask for a list of recommendations and place the holds yourself.
Will I be charged late fines during the pandemic?
No, we will not be charging late fines on any library materials through June 30, 2021.
You might receive an overdue notice for something you've already returned due to our minimum 72-hour quarantine, but no late fines will be charged once it's checked in.
Can I use the Library's DOT Kiosk?
Yes, the Iowa DOT Kiosk is available during our open hours.
There is also a kiosk at the service center on the first floor in the Eastdale Plaza, 1700 S. First Avenue, Iowa City. It's available during the driver's license station's service hours, Tuesday to Friday, 8:30am - 5pm and Saturday 8am - 1pm.
The North Liberty Community Library's DOT Kiosk is available by appointment - call 319-626-5701.
To find out if you are eligible to use a kiosk, visit the Iowa DOT's Kiosk page.
How can I get something printed?
We're offering 10 free black-and-white pages per day.
In-person printing is available using our lobby computers. You may also mail the document to print@icpl.org or send it via the email form found on our Ask Us page. Please include a contact name, phone or email, and the file as an attachment.
Is The Book End open?
No, The Book End is closed and not currently accepting donations.
But you can buy a surprise bunch of books.
Lobby Grab & Go
Lobby Grab & Go is available Monday to Saturday 10am - 6pm and Sunday 12 - 5pm. No appointment necessary.
How does holds pickup work?
Place a hold on items from the catalog.
Wait for notification that they are ready.
Enter from the Library's Linn Street doors. Staff will be there to welcome you!
Present your library card, library app, hold notice, or ID to staff, and we will check your holds out to you.
Please keep 6 feet behind the person ahead of you. Masks are required. Please stay home if you have COVID-19 symptoms.
Can I pick up holds for others in my household?
Yes! Please bring their library card or hold notice with you.
What if I am uncomfortable with Lobby Grab & Go?
You can request items be mailed to you if you live in Iowa City, Hills, Lone Tree, University Heights, or rural Johnson County.
Or if you qualify, you can also join the At Home program to get items regularly mailed to you.
What if I no longer want to check out items that I have on hold?
Log into your account and cancel your holds online. You can also contact the Library at 319-356-5200 or Ask Us online to cancel your holds.
Mail Delivery
Mail delivery is available to residents in Iowa City, Hills, Lone Tree, University Heights, or rural Johnson County.
How does mail delivery work?
Place a hold on items from the catalog
Wait for notification that they are ready
Request mail delivery when they are ready
Confirm your mailing address and request
Ready items will be mailed to you
How soon will I get my items in the mail?
We are mailing items Mondays through Fridays and we will email or call you to let you know your items are on the way. Delivery can take 3-10 days to reach you depending on your address.
Do I have to pay for the mailing?
No, the Library will pay the cost of mailing your items to you.
Safety procedures
In-person browsing is currently unavailable, but you can place holds and pick them up in the lobby.
Guidelines for you
Masks covering your mouth and nose are required
Maintain at least 6 feet distance from others
Please stay home if you have COVID-19 symptoms
What we're doing
Quarantining materials for 72 hours before check-in
Staff are behind plexiglass barriers
Hand sanitizer and masks are available
Reopening plan
Current phase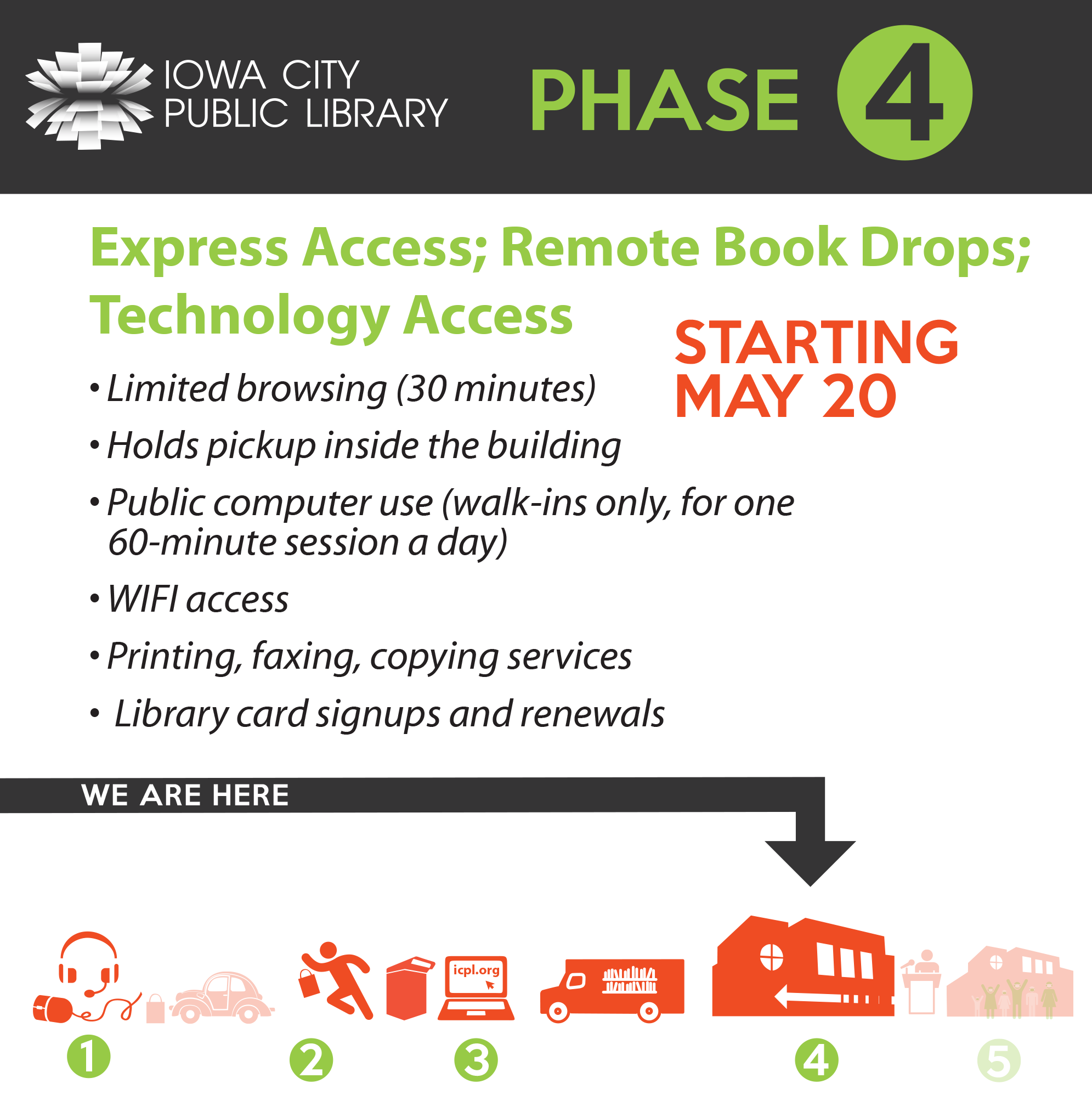 Phases
While subject to change, this overview is our guide to reopening as it becomes safe to do so. Each phase includes the services provided in previous phases.
Phase 1: Phone, Chat, & Web-based Services
Chat, email, and phone reference available
Virtual programming
Phase 2: Express Pickup; Mail Holds Delivery; Remote Book Drops
Quick holds pickup from Library lobby
Pickup prints and To Go Crafts/Programs
Mail holds delivery available
Remote book drops in the community are open
Phase 3: Express Access; Technology Access
Quick holds pickup from Library lobby
Limited computer access; printing, faxing, scanning
Iowa DOT kiosk
Phase 4: Express Access to Library Building
Express use of building available for browsing the collection
Expanded computer use
Phase 5: Full Access
Meeting rooms will be in use
Onsite library programs offered
Outreach services are reengaged
Library volunteers are scheduled for onsite service
The Library is fully open
Hear more from staff