Parking
We provide free short-term parking on Linn Street in front of the Library in addition to the metered parking spaces throughout the area. More parking is available in downtown parking ramps, many of which offer the first hour free.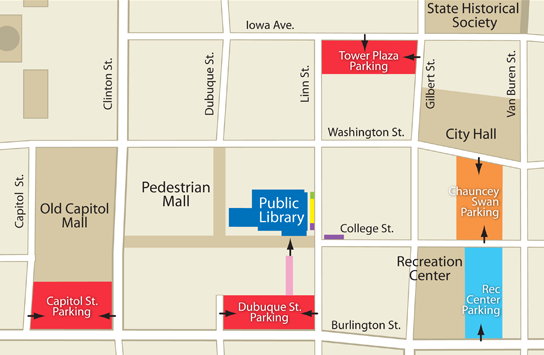 Parking ramps, hourly rate. First hour is free in these ramps
Parking ramp, pay by the space. Free after 6 pm and on Sundays
Metered parking on street and in Recreation Center lot; Free after 6 pm and on Sundays
Free 10 minute parking for Library patrons
Outside book return only
Handicapped Meters
Covered walkway connecting the third floor of the east side Dubuque Street ramp with the Plaza Towers building
Download a printable version of this map
Bus Passes
Iowa City Transit buses stop at the downtown Iowa City interchange at the Old Capital Town Center (bus stop 0001), and it is a short three block walk to the Library.
Ride and Read
Present your library card to any staff desk at the Library to receive a bus pass for traveling home on Iowa City Transit buses. Available year-round to all ages. Limit: Two passes per week, one pass per day
Summer Library Bus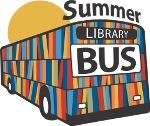 Kids through 12th grade, and the adult caregivers with them, can ride any Iowa City Transit bus for free when traveling to the Library during Iowa City Schools' summer vacation, weekdays between 9 am and 3 pm – just show your library card to the bus driver.
Catch a ride home anytime the same day with a Ride & Read bus pass.
Translations
Learn about the Summer Library Bus from a printable bookmark in these languages...