Jump to: Getting a Card | Card Types | Access by Type | FAQs
Getting a Card
Bring a photo ID with you to the first floor Help Desk or to the ICPL Bookmobile to apply for a library card. If your current address is not listed on your photo ID, please also bring a recent utility bill or official mail. If you apply online, please bring your photo ID and Iowa address verification to pick up your card within two weeks of filling out the application.
Apply for a library card
Children
For minors, ages 0-17, a parent or guardian must show a photo ID and proof of Iowa address for a library card as they are responsible for fees associated with their child's card.
Without a parent/guardian present, kids may be issued a card with a two-item limit until a parent/guardian is notified. If when notified, you are unwilling to accept financial responsibility of your child's library materials, contact the Library and we will cancel the card.
There are no age restrictions for borrowing or using library materials and resources. Because we value confidentiality, access to information on a child's account is only available to the child, or to the parent if they have the child's card.
Translations
Learn about getting a library card in these languages:
We also have library card application translations:
Card Types
Residents
People living in Iowa City, Hills, University Heights, Lone Tree, or rural Johnson County are eligible for a resident card.
Non-Residents (Open Access)
Coralville, North Liberty, and most other Iowa residents may obtain an Open Access library card.
Temporary
If you don't have a permanent address in the service area but will be living here for one to eight weeks, you can apply for a temporary card at the Help Desk.
In-House
For those unable to confirm a local address, an in-house card is available with a photo ID.
Institutional
Businesses within our resident areas are also eligible for a library card with some limitations on borrowing.
AIM Student
Students attending a Iowa City Community School District school can use their school-issued ID to check out materials. Learn more at the AIM Student Card website.
Access By Card Type
Resident
Open Access
Temporary
AIM
Check out books, movies, discs, & magazines
Yes
Yes
Yes


Limit 2

Yes


Limit 3

Check out art prints or storytime kits
Yes
Yes
Check out equipment
Yes
Internet access
Yes
Yes
Yes
Yes
Download audiobooks & music, eBooks & digital magazines
Yes
Yes
Yes
Access reference databases from home or office
Yes
Yes
Yes
Interlibrary loan
Yes
MyICPL - Library App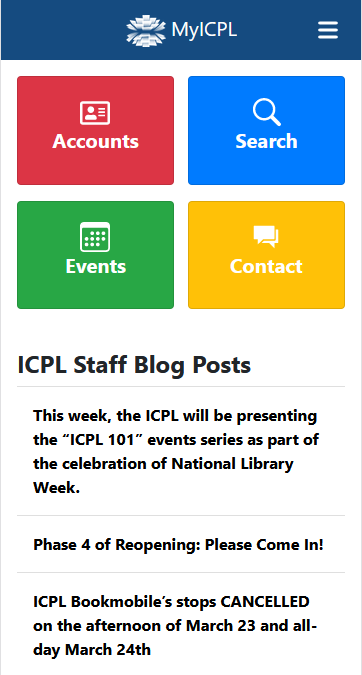 Keep track of your borrowed items with our app, and add multiple accounts if you need to keep track of your kids' accounts. You can also renew items from the app.
Install it to your device from my.icpl.org. Learn how from our blog post.
FAQs
I've lost my card. How can I get a replacement? You can get one free replacement per year with a photo ID. Additional replacements are $1. Also, let us know if your card is stolen because we will put a note in your account so no one can use it.
What if I forgot my password? You can reset your password using the password reset page.
Read more Frequently Asked Questions