Posted by Alyssa on Monday, Apr 26, 2021
There's a new MyICPL app in town!
Our goal with this new app is to duplicate the functionality of the old app as best as we could since the old one has stopped working for some people and we want to get them a replacement. So it will look roughly the same as the old app but minus a few features due to software limitations. The best part is that you never have to update it! Anytime we make changes those should automatically be pulled in for you.
You can find the app by visiting my.icpl.org in your phone's browser and installing.
Installing the app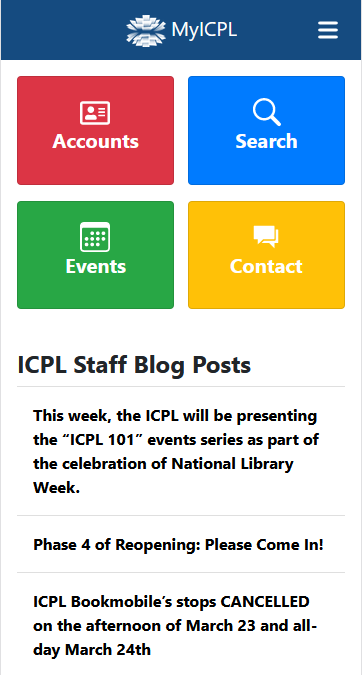 The "install" process on the new app is a little different because it's not in the App Store or Google Play. The new app is a website that you'll add to your mobile device's home screen. If you're not familiar with the process, here's a quick how-to.
In your device's browser, navigate to my.icpl.org. We recommend Chrome for Android users and Safari for Apple users.
You should see something similar to the image here. If you see a popup notification asking you to install/add the app to your home screen, click the notification. If you don't see the notification or you missed it you can still add it manually. Here's how from these browsers:
Chrome (Android only): In the browser settings menu (under the three dots), select Install app
Firefox (Android only): Open the browser settings menu (under the three dots) and tap Install
Safari: Tap the share icon ( ) and scroll down to Add to Home Screen
There might be a second Add button and you should click that to add it to your apps list.
Want to see it in action? Watch how to install the app for Apple:
And here's how to install on Android:
If you have any trouble getting it installed or you would like help, call us at 319-356-5200 and we'll walk you through it!
Features
The features are pretty similar to the old app, but if you haven't used the old one, here's what you can expect:
Manage Your Account(s)
If you're wanting to keep track of the items you have borrowed, the app will save your account information and you can check it as often as you need to. Have an item that is due soon? Renew it from within the app. Or if you are waiting for an item, see what your position is in the hold line.
Have kids or multiple accounts to keep track of? It's also handy if you want to keep track of due dates on multiple accounts. Add each account once and see all items in one list. You can make sure everyone is returning their books on time.
Find Upcoming Events
Browse upcoming events at the Library. Find one you are interested in? Add it to your phone's calendar directly from the app.
Check Our Collection
Search for books, movies, music, and more and it will take you to the catalog to place it on hold. (Looking for something we don't have? We can either purchase it or borrow it from another library.)
Other features
You can check our hours, both for the day and week, and see upcoming holiday hours. Or find our contact info for when you want to get in touch. You can also read blog posts from the app to stay up-to-date.
Also try out dark mode for an easy-on-eyes theme!
Distinguishing between the apps
The two apps have very similar icons. The new one is all blue and the old one has two different colors. While it's not a problem to have both apps, feel free to uninstall the old app and switch entirely to the new app. The old one is no longer available from the App Store or Google Play.
| New | Old |
| --- | --- |
| | |
Problems or suggestions?
Let us know if you run into any issues with it or have features you'd like to see. We're continuing to make improvements.
There's a link to a feedback form in the app's menu so you can easily contact us with app-related comments while you're using it.
We hope you like it!
Categories