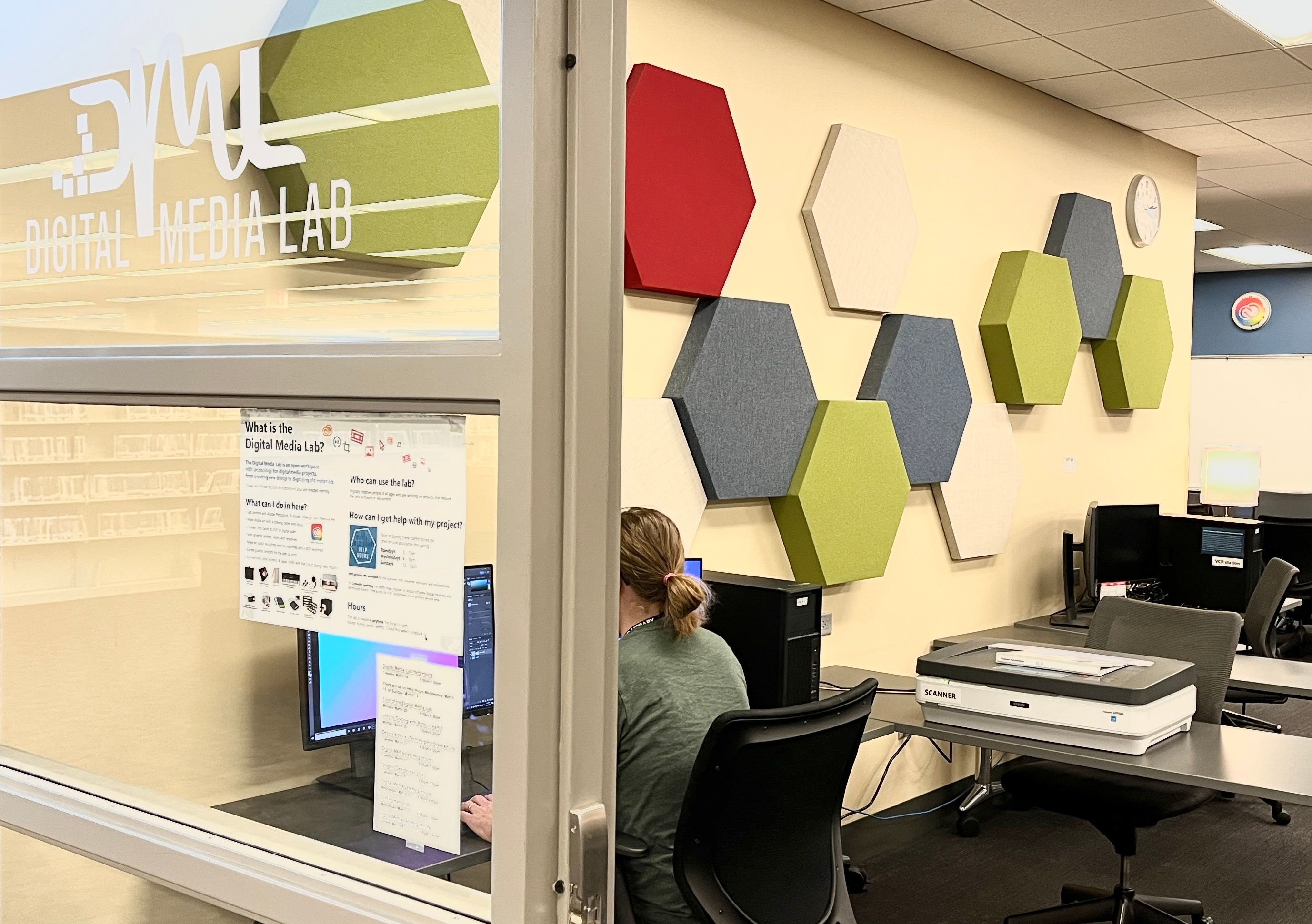 The Digital Media Lab is an open workspace with technology for digital media projects such as:
Editing photos for online sharing or print projects
Creating movies with transitions, credits, and soundtrack
Digitizing VHS or cassette tapes for digital storage or burning to disc
Scanning artwork, documents, negatives, and slides
Designing unique graphics or logos for your club, small business, or website
Producing cards, calendars or other printable items for gifts or parties
Making audio recordings using microphones or MIDI keyboard
Equipment
Available for in-house checkout from the Page Station, except the Cricut.
Cricut Maker 3 1 available
Reserve time with the Cricut, a digital cutting machine capable of creating vinyl stickers, iron-on designs, and elaborate paper cut-outs. More details and reservations
Elgato digital converter 1 available
Digitize your VHS or cassette tapes! Digitize video via our VCR or your camcorder into high quality H.264 files that can be burned to a DVD or saved digitally. Digitize audio cassette tapes using our boombox.
iPad with Apple Pencil 1 available
Create digital art in Procreate or Adobe CC Express on this iPad with a pressure-sensitive Apple Pencil stylus.
Wacom Intuos drawing tablets 6 available
Draw, paint, and edit photos freehand. Includes a highly accurate pen with pressure sensitivity for creative drawing, and works with most software.
Microphones 2 available
Handheld microphone with quality analog-to-digital converter for excellent fidelity. Ideal for podcasting, home studio recording, and voiceover use. Microphone uses a USB cable to capture recordings digitally. Tripod stands and pop filters provided.
MIDI keyboard 1 available
Equipped with 49 semi-weighted, full-size keys and a premium piano-style keybed for high response and natural feel. Each key is velocity-sensitive and outfitted with aftertouch for dynamic, expressive performances and recordings.
Epson scanner 2 available
High quality scanner capable of reproducing images up to 12.2 x 17.2" with 4,800 dpi resolution. Scans multiple images at once and saves files to a computer in JPEG, TIFF, or PDF formats. Scans up to forty-eight 35 mm negatives, thirty 35 mm slides, eight 4x5" transparencies or six medium-format transparencies at a time.
*Only the accessories for slides and negatives need to be requested at the Page Station.
Handheld scanners 10 available
Cordless Doxie scanner with removable lid to scan items that have been affixed to a scrapbook. Saves images on an SD card that can be transferred to a computer or USB device.
Floppy disk drive 3 available
Connects via USB to a computer.
DVD drive/writer 2 available
Connects via USB to your own laptop to read and burn DVDs or CDs.
Tracing light pad 1 available
USB-powered LED light box for tracing a printed design onto paper, watercolor paper, or fabric for needlework projects.
Projector for tracing 1 available
Use our InFocus IN112x projector to trace an image from a laptop onto surfaces like canvas, large paper or banners, or fabric for needle crafts. Connects via VGA or HDMI to a library laptop or your own. Available during DML Help Hours.
Paper cutter 1 available
Fiskars paper trimmer with 12" cut length for small trim jobs.
Long arm stapler 1 available
With a maximum stapling depth of 12", it can staple up to 10 pages to bind zines or booklets.
Photography lightbox 1 available
Take beautiful, bright photos of small objects in this 16x16" box with 2 dimmable lights, a curved white backdrop, optional light diffuser, and the ability to shoot from the front or top.
Software
Printing
Size
B&W
Color
8.5x11"
10¢
50¢
8.5x14"
25¢
75¢
11x17" &
12x18"
50¢
$1.50
Your own paper
10¢
50¢
Pay for print-outs at the Page Station. All printing in the Digital Media Lab is your responsibility and refunds cannot be made.
Saving your work
Remember to save your work externally, because no files remain on the computers once they are restarted. Consider a flash drive, a Windows-formatted external hard drive, or cloud storage. Flash drives and blank CDs and DVDs are available for purchase at the Page Station.
Comments
Is there something we could improve? Or is there software or equipment you'd like us to purchase? Let us know how things are going.
Hours
The Digital Media Lab is available anytime the library is open, except when a library event is scheduled in the space. Check our online calendar for closed times, technology classes, and Digital Media Lab Help Hours when we can provide assistance for your digital projects.
Funded by
The Digital Media Lab room remodel and equipment was funded by a generous grant from the Roy J. Carver Charitable Trust.