We have a variety of objects that can be borrowed by those in our resident areas which include Iowa City, Hills, University Heights, Lone Tree, and rural Johnson County. Visit the Borrowing and Fees page for loan periods and fines on items.
Jump to: Adventure Pass | Art-To-Go | Equipment | Games | Kits
Adventure Pass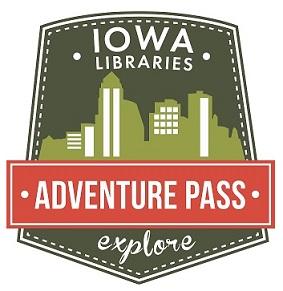 Visit Iowa attractions and museums for free once per year. Options include the Blank Park Zoo, the African American Museum of Iowa, and the Science Center of Iowa. Bring up to two adults and two children with this printable pass. Learn more from our Adventure Pass FAQs.
Browse Adventure Pass availability
Art-To-Go
The Library has a variety of framed art pieces available for checkout. These feature pieces by masters like Van Gogh as well as local artists chosen through the Art Purchase Prize competition.
Browse the Art-To-Go Collection
Equipment
We have video players available to residents. Items must be requested and checked out under your account only - ID may be requested and a library card is required for checkout.
Includes an 8" LCD monitor, cables, and instruction sheet.
Includes a 9" LCD monitor, cables, and instruction sheet.
Games
Video Games
We offer video games for several consoles.
Browse Nintendo Wii and Wii U Games
Browse Microsoft Xbox 360 and Xbox One Games
Browse Sony Playstation 3 and Playstation 4 Games
Browse Switch Games
Toys
A wide variety of learning toys and games are available for home use such as puppets and puzzles.
Kits
Discovery Kits
Discovery Kits have everything a patron needs to explore a hobby or try a new experience. All kits for children and adults come in easy to carry bags and are available at the Help Desk.
Book Club Kits
Book Club Kits are provided to help support reading groups. The kits include 10 copies of the book and discussion information. Find them on the first floor near the Help Desk.
Read with Me Kits
Bring storytime home with our Read with Me Kits. Each themed kit includes five books, a storytime starter sheet, and an activity item, such as a puppet, puzzle, or toy.