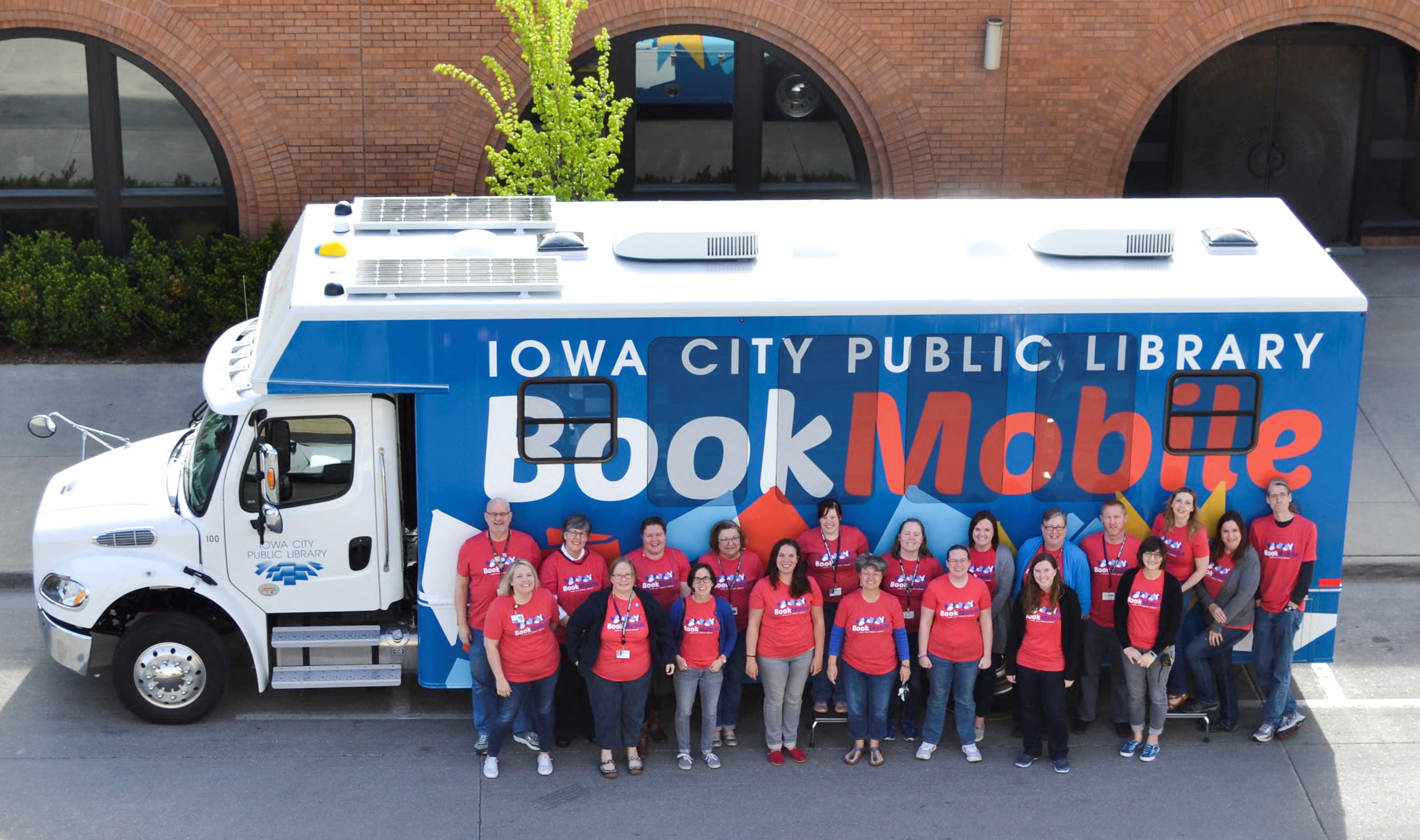 Today's Stops
08/02/2021
Legacy Independent Living
Browsable bins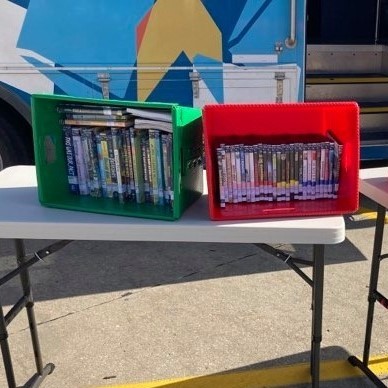 New browsable bins will be set up outside the Bookmobile to safely explore parts of the Bookmobile collection.
When you find items you'd like, we'll scan your library card and add them to your account for you to take home.
Summer Map
Key: Mon Tue Wed ThurFri
Summer Stops
(June 1 – August 20, 2021)
Jump to: Monday | Tuesday | Wednesday | Thursday | Friday
All stops are open to the public.
Masks are suggested for unvaccinated people.
Monday
10:30 - 11:30am

Willow Creek Park


1117 Teg Dr

12:00 - 12:30pm

Dodge St Coffeehouse


2790 N Dodge St

12:45 - 1:30pm

North Dodge Hy-Vee


1125 N Dodge St

3:00 - 3:30pm

Legacy Independent Living


1095 Silvercrest Circle

3:45 - 4:30pm

Longfellow Elementary


1130 Seymour Ave
Tuesday
9:30 - 10:15am

Weber Elementary


3850 Rohret Rd SW

10:30 - 11:30am

Oaknoll Retirement Community


735 George Street

11:45 - 12:30pm

Forest View Mobile Home Community


1205 Laura Dr

1:30 - 2:00pm

First Avenue Hy-Vee


812 S 1st Ave

2:30 - 3:15pm

Hills Elementary


301 Main St, Hills

3:30 - 4:15pm

Atrium Village Senior Living


117 3rd St, Hills
Wednesday
9:00 - 9:45am

Alexander Elementary


3571 Sycamore St

10:30 - 11:30am

Wetherby Park


2400 Taylor Dr

2:30 - 3:00pm

Lincoln Elementary


300 Teeters Ct

3:30 - 4:15pm

City Park Pool


200 Park Rd

4:45 - 5:30pm

GreenState Credit Union


825 Mormon Trek Blvd
Thursday
9:45 - 10:30am

Pheasant Ridge Neighborhood Center


2651 Roberts Rd

11:00 - 11:45am

St. Mark's United Methodist Church


2675 E Washington St

12:00 - 12:30pm

Frauenholtz-Miller Park


4329 St Patricks Dr

3:00 - 3:45pm

Twain Elementary


1355 Deforest Ave

4:00 - 4:30pm

Pepperwood Plaza


851 Hwy 6 E

5:00 - 5:30pm

Waterfront Hy-Vee


1720 Waterfront Dr

6:30 - 8:00pm

Party in the Park


Various Locations
Friday
10:30 - 11:30am

Mercer Park


1317 Dover St

12:00 - 1:00pm

Breckenridge Estates


4494 Taft Ave SE
Download the Bookmobile Summer Schedule
FAQ
What is the Bookmobile?
The Bookmobile is a mobile library service from the Iowa City Public Library (ICPL). In addition to a collection of new and popular books and DVDs on the Bookmobile, you can check out anything from ICPL's collection by placing a hold and requesting pickup at the Bookmobile.
Can I pick up holds and ILLs at the Bookmobile?
Anyone with an ICPL library card can check out materials at the Iowa City Public Library Bookmobile. When you ask for a hold or Interlibrary Loan let us know you'd like to pick it up at the Bookmobile.
How do I pick up my holds from the Bookmobile?
Let us know your name when you arrive. We'll check out your items and set them on the table outside the Bookmobile for contactless pickup or you can come inside and browse before you check them out.
Can I pick up holds for someone else?
Yes! Please bring their library card with you. Also, when placing the hold, choose the Bookmobile as the pickup location.
I miss browsing on the Bookmobile. How can I get books when I don't know what to check out?
We have a new service: Staff Picks…Just for You! Fill out the online questionnaire and our experts on staff will surprise you with great finds. You can request a book bundle for Bookmobile pickup, or you can ask for a list of recommendations and place the holds yourself.
What safety precautions are staff taking?
While browsing has returned, our Bookmobile pickup service is designed to be contact-free with staff placing items on the pickup table outside. Hand sanitizer and masks will be available, and staff have surface cleaners on hand.
How do I get a library card?
You can register for a library card online.
How do I return books?
You can return your books at any of the Bookmobile's weekly stops, at any of our remote bookdrops, or downtown at the Iowa City Public Library.
Where do I find schedule updates?
Bookmobile service will occasionally be interrupted by holidays and inclement weather. For the most up-to-date information, look at our daily schedule on this web page.
Are you affiliated with Antelope Lending Library?
The Antelope Lending Library is an independent non-profit bookmobile that operates in the Iowa City area. For more information visit the Antelope Lending Library website.
Translations
Learn about the Bookmobile from a printable bookmark in these languages...