Posted by Karen G on Friday, May 31, 2019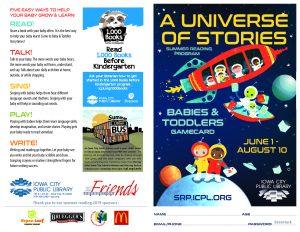 Developing a reading ritual begins at birth!
Did you know that we have a reading program for babies and toddlers, too? Parents and caregivers can register their baby or toddler for summer reading and together work on a fun activity game card that lists activities based on the five early literacy skills: Reading, Singing, Talking, Playing and Writing.
Babies and toddlers who participate in the summer reading program can earn prizes, like a plush toy rocket and a board book of your choice.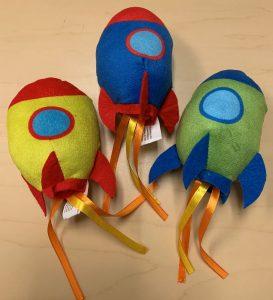 When you complete the game card, you're automatically entered into a grand prize drawing. There's a chance you could win one OF these prizes.  A $50 gift certificate from Prairie Lights Book Store; a Baby & Me or Tots Yoga series at Zen Den Yoga in Iowa City; or a $50 gift card for a massage at Wild Flower Healing Arts.
Hurry and register your little one for summer reading today!
Have more fun with your little one by attending our Book Babies program on Friday at 10:30 a.m. or at 1:30 p.m. (for ages birth – 24 months). Attend storytime at 10:30 a.m. during the week that best fits in your busy schedule.  If you work during the week, come to storytime on Saturday at 10:30 a.m. Our Storytimes are designed to meet the needs of your child from birth – 5 years of age. And don't forget that we have Stories in the Park this summer every Monday, Wednesday, and Friday at 10:30 a.m. with the Bookmobile.
Zero to Three is a wonderful site filled with a vast amount of early literacy information. Parents, grandparents, and caregivers play a very important role by understanding what happens in a baby's brain while being read to. This video is just six minutes – you'll be amazed at how much of an important role you play just by reading to your baby.
Categories
Recent News