Posted by Meredith on Monday, Mar 21, 2016
Here it is: your 2016 Book Madness Elite Eight!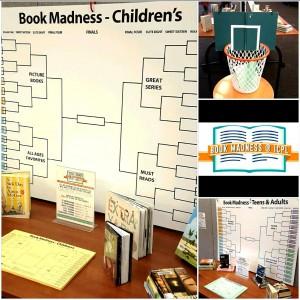 It seems a lot of brackets busted this weekend in that other March Madness tournament that's going on; we hope your Book Madness bracket is in better shape!
Voting for the Final Four titles begins today. Stop by and make your selections before the Library closes on Sunday. We'll reveal our Final Four next Monday.
If you would like a list of every title in this year's Book Madness competition, click here.
2016 BOOK MADNESS SWEET SIXTEEN – CHILDREN'S BRACKET
PICTURE BOOKS

The Day the Crayons Quit by Drew Daywalt vs Where the Wild Things Are by Maurice Sendak
ALL AGES FAVORITES
Mr. Popper's Penguins by Florence & Richard Atwater vs Wonder by R. J. Palacio
GREAT SERIES
Warriors by Erin Hunter vs The Magic Thief by Sarah Prineas
MUST READS
Redwall by Brian Jacques vs Brown Girl Dreaming by Jacqueline Woodson
2016 BOOK MADNESS SWEET SIXTEEN – TEENS AND ADULTS BRACKET
REQUIRED READING

Pride and Prejudice by Jane Austen vs Fahrenheit 451 by Ray Bradbury
BUZZ-WORTHY BOOKS

Still Alice by Lisa Genova vs Ready Player One by Ernest Cline
YOUNG ADULT

The Hunger Games by Suzanne Collins vs I'll Give You the Sun by Jandy Nelson
ADD TO YOUR READING LIST

Shoeless Joe by W. P. Kinsella vs The Martian by Andy Weir
Recent News