Posted by Sam on Tuesday, Jul 5, 2022
Community outreach was a large factor in my joining the Iowa City Public Library team nearly two years ago. Connecting with patrons to share the good news of free information resources, creating shared learning opportunities for the community, as well as encouraging the growth and joy of others are the makings of a powerful and fulfilling vocation. 
Any day that creates an opportunity to take the library to where people organically gather and flow in our community is a great day for me. Bookmobile pop-ups at the Iowa City Farmers Market have been recent examples of those great days this summer and I'm excited that there are more to come. 
Two hours before the Downtown Library opens, the ICPL Bookmobile has opened for business at 8 am during Iowa City Farmers Market. ICPL staff members have started their Saturdays early with outreach in order to:
provide access to holds (all you have to do is select pick up from the Bookmobile as your option)
hand out bus passes when you present your ICPL card or photo ID
enable browsing of the Bookmobile collection containing books, DVDs, and audiobooks
register you for a library card and for the Summer Reading program (we can also award prizes)
engage with all ages through activities and crafts
promote free and meaningful services available through the library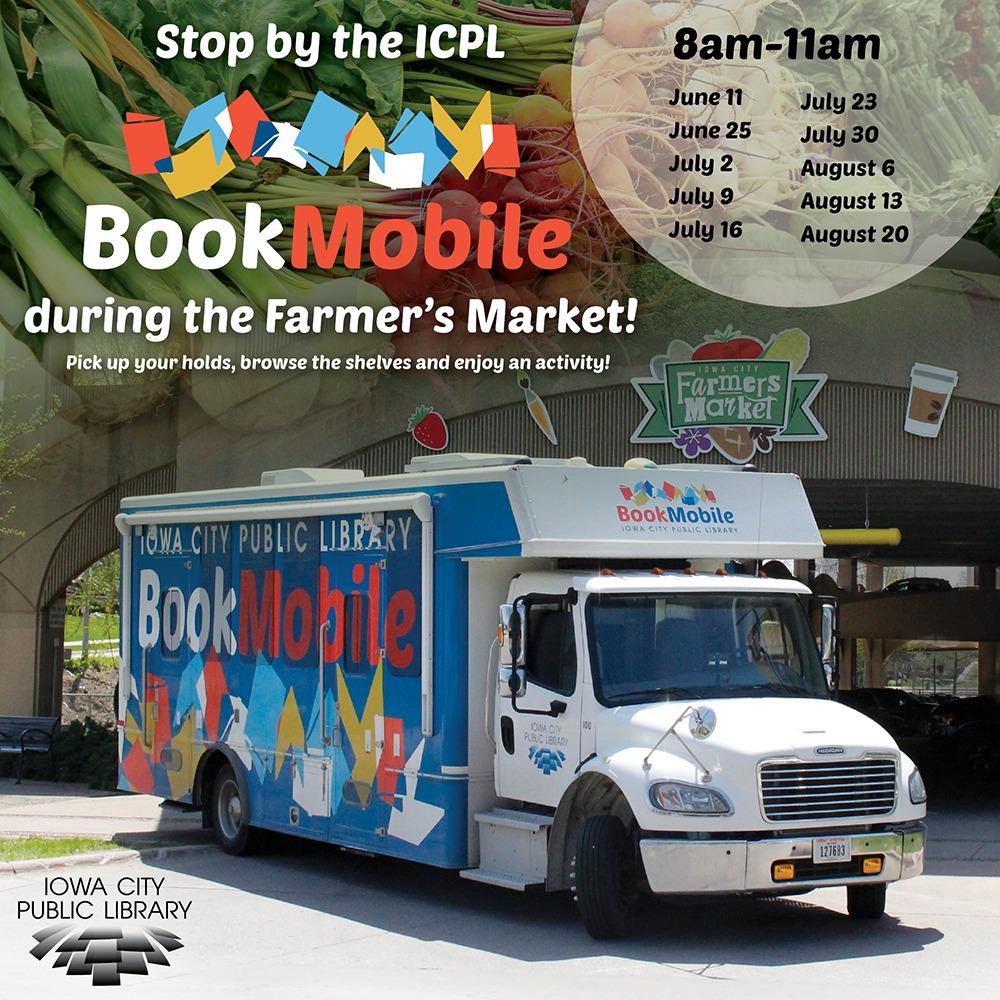 The Bookmobile currently operates Monday through Friday with thirty-one regular stops. Each stop is my favorite stop (okay, it's hard for me to choose favorites) for their unique qualities. Bookmobile stops reflect specific neighborhood culture but also the shared goals and diverse experiences found in each pocket of our community. Each Bookmobile stop teaches me about Iowa City and its wonderful people and (I hope) it imparts the value and services provided by the Iowa City Public Library. 
We connect. We learn. We have fun. It is an outreach library worker's dream! 
Saturdays in July and August at the Farmers Market allow us to continue that fun into the weekend. I hope you'll stop by and enjoy an activity like our Produce Photo Booth where you can dress up your Farmers Market finds and snap a pic of your Granny banana (or "Granana") reading a book, your ear of corn surfing some waves, and your broccoli playing guitar. These activities allow our collective creativity to shine as we bond over story making and story sharing.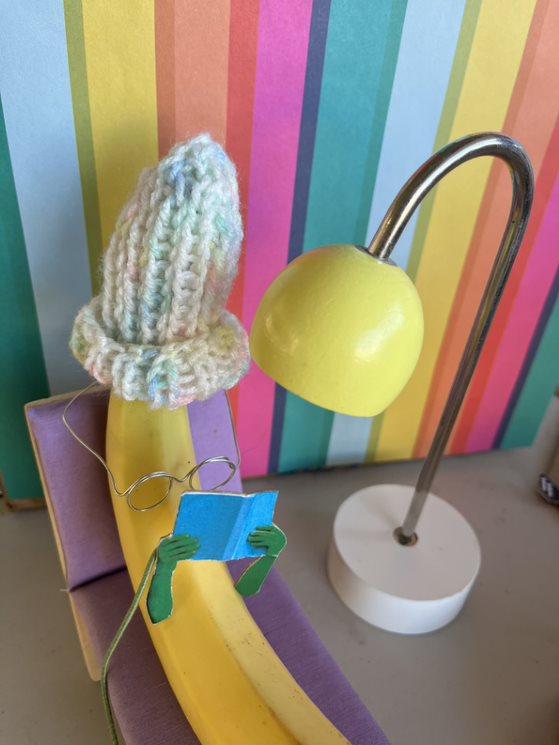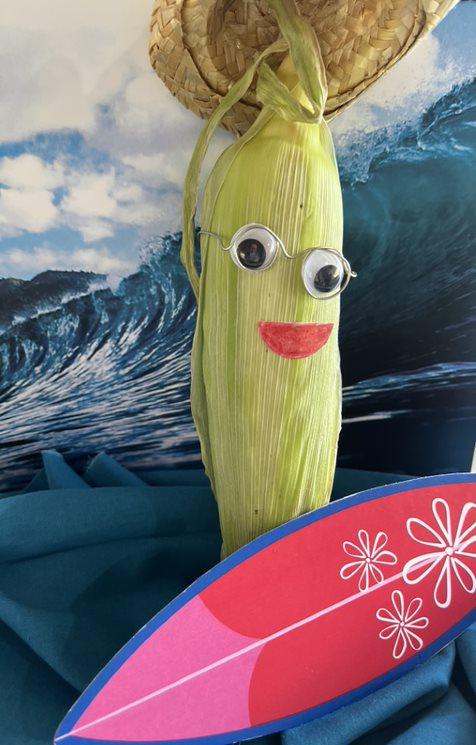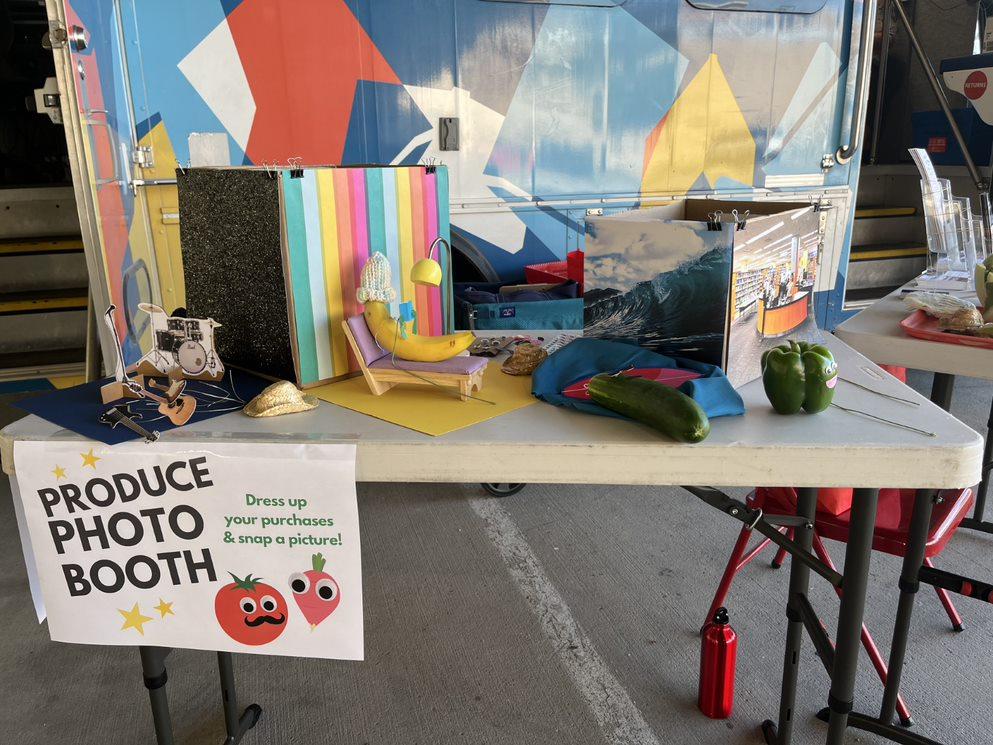 As an Iowan and a librarian, I find myself quoting The Music Man and Field of Dreams with some degree of regularity when writing or presenting. While their respective references to book bannings and intellectual freedom nod nicely at our state's history of open access to information (the Library Bill of Rights was drafted in Des Moines in 1939) each also reflects our sense of community and involvement in public life. We are engaged with each other and community life. We grow together through experiences and through the use of publicly available resources. We are intricately involved and connected to those around us. Library outreach strives to reveal and enhance that important connectivity. 
Thank you for building community through engagement and fun events in Iowa City. If you build it, we will come, and we will bring literacy and learning with us.   
Categories