Posted by Meredith on Tuesday, May 16, 2017
I used to carry a notebook in my purse in which I'd jot down the names of the books I want to read someday. Happiness was drawing a line through one of the titles after I finished a book. That feeling of accomplishment is addictive.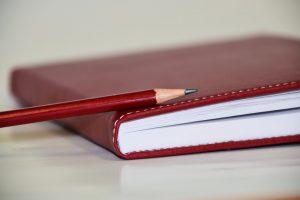 Unfortunately, the list got out of control, so I started a new notebook. While transferring the titles from the old to the new, I realized some were duplicates. Then there were books I thought sounded interesting a decade ago that didn't anymore. My system wasn't foolproof. It was one thing to write down the title of a book, but how many did I actually read?
(Not that many.)
I joined Goodreads a couple of years ago, but rarely used the "Want to Read" function. I already had an out of control TBR (To Be Read) pile. Why would I add to it? It turns out, that little button is a lifesaver for anyone who's as obsessed with lists and order as I am. I transferred all the books listed in my notebook to the "Want to Read" shelf on my Goodreads account. It's an insane number, but I no longer worry about duplicate titles. Also, when I'm browsing the Library's shelves without a specific title in mind, the app reminds me of all my TBR  books.
Still, I'm trying to pare down the list. It's like those who embrace the minimalist rule of two items out of the house for every new thing brought inside, except it's one book from the "Want to Read" virtual shelf for every book I check out on a whim. I've knocked a few titles off the list thanks to this method. Of course, they were quickly added by new titles, but progress is progress, even when the numbers don't reflect it.
Here are some of the books from my never-ending TBR pile I recently read and enjoyed. Maybe you'll add them to your own list:
My Life Next Door by Huntley Fitzpatrick: The Garretts are everything the Reeds are not. Loud, messy, affectionate. And every day from her rooftop perch, Samantha Reed wishes she was one of them . . . until one summer evening, Jase Garrett climbs up next to her and changes everything. As the two fall fiercely for each other, stumbling through the awkwardness and awesomeness of first love, Jase's family embraces Samantha - even as she keeps him a secret from her own. Then something unthinkable happens, and the bottom drops out of Samantha's world. She's suddenly faced with an impossible decision. Which perfect family will save her? Or is it time she saved herself?
Kitchens of the Great Midwest by J. Ryan Stradal: When Lars Thorvald's wife, Cynthia, falls in love with wine--and a dashing sommelier--he's left to raise their baby, Eva, on his own. He's determined to pass on his love of food to his daughter--starting with puréed pork shoulder. As Eva grows, she finds her solace and salvation in the flavors of her native Minnesota. From Scandinavian lutefisk to hydroponic chocolate habaneros, each ingredient represents one part of Eva's journey as she becomes the star chef behind a legendary and secretive pop-up supper club, culminating in an opulent and emotional feast that's a testament to her spirit and resilience.
Modern Lovers by Emma Straub: Friends and former college bandmates Elizabeth and Andrew and Zoe have watched one another marry, buy real estate, and start businesses and families, all while trying to hold on to the identities of their youth. But nothing ages them like having to suddenly pass the torch (of sexuality, independence, and the ineffable alchemy of cool) to their own offspring. Back in the band's heyday, Elizabeth put on a snarl over her Midwestern smile, Andrew let his unwashed hair grow past his chin, and Zoe was the lesbian all the straight women wanted to sleep with. Now nearing fifty, they all live within shouting distance in the same neighborhood deep in gentrified Brooklyn, and the trappings of the adult world seem to have arrived with ease. But the summer that their children reach maturity (and start sleeping together), the fabric of the adults' lives suddenly begins to unravel, and the secrets and revelations that are finally let loose—about themselves, and about the famous fourth band member who soared and fell without them—can never be reclaimed.'

Categories
Recent News