Posted by Kara on Friday, Feb 7, 2020
The Library Board recently reviewed the Library's Confidentiality and Privacy Policy. This policy defines how the Library serves as custodian of records, protects this confidential informaiton and responds to requests for information about Library patrons.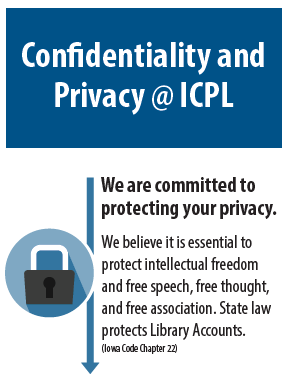 The Library's Confidentiality and Privacy Webpage shares critical information about Library Accounts, the types of personal information we save and individual third-party vendor privacy policies.
During this review, a couple changes were made to the Policy. We added a reference to our Collection Development Policy because of the confidentiality and privacy issues related to digital and electronic collections. We also added a sentence stating we would consider third-party vendor privacy policies when selecting digital collections and resources. And finally, recognizing data breaches can happen, we added a sentence affirming we will respond to internal data breaches involving patron information by notifying patrons who are affected, evaluating related practices and procedures and making changes to our procedures to prevent future occurrences.
In our modern world, confidentiality and privacy issues are critical. Looking to the future, raising community awareness of these issues and providing training will be a big part of our new strategic plan. If you review our policy and webage and have further questions about confidentiality and privacy at the Library, please feel free to contact our staff.
Categories