Posted by Meredith on Thursday, Mar 26, 2015
Do you ever go through reading slumps during which nothing grabs your attention? You pick up a book, read a few chapters, decide it's not for you, and move on to the next?
I'd been battling that for almost two months when I decided enough was enough. Rather than check out another book I likely wouldn't finish, I went to the book store and purchased a book. It sounds odd that a Library employee would do that, but I figured I had a greater chance of finishing the book if I was financially committed to it.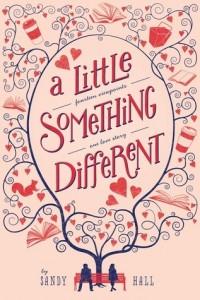 Because I am doing the Pop Sugar 2015 Reading Challenge with my book group, I purchased Sandy Hall's A Little Something Different to satisfy the "read a book because of its cover" requirement.
I'm glad I did because this book, like its cover, is adorable.
A Little Something Different is the story of how two college students, Lea and Gabe, fall in love -- only they don't tell the story. Instead, everyone around them tells it, from Lea's roommate and Gabe's older brother, to their creative writing instructor and the cynical Starbucks barista. Even a campus squirrel has insights to offer. He may not be able to communicate with Lea and Gabe, but he loves that they share their food with him.
This is not a deep read. This book probably won't change your life, though it might inspire you to give a squirrel a piece of your bagel. It will, however, make you smile. I finished it in two days and it was exactly what I needed to get over my reading slump.
Oh, and the author is a librarian in New Jersey. How can I not love that?
Recent News