Posted by Sam on Friday, Jan 7, 2022
The Iowa City Public Library Bookmobile starts its Spring 2022 schedule on Monday, January 10. Library staff have missed connecting with you on the Bookmobile and can hardly wait to see you and provide services at the following community locations:
Monday
9:00-9:45 am Dodge Street Coffeehouse
10:00-10:45 am St. Mark's United Methodist Church
11:00am-12:00pm North Dodge HY-VEE
1:30-2:30 pm Frauenholtz-Miller Park
2:45-3:15 pm Legacy Independent Living
3:30-4:30 Lemme Elementary
Tuesday
9:15-10:15 am Pheasant Ridge Neighborhood Center
10:30-11:30 am Oaknoll Independent Living
11:45 am-12:45 pm UI College of Medicine Courtyard
1:45-2:15 pm Melrose Meadows Retirement Community
2:45-3:15 pm Atrium Village Senior Living
3:30-4:15 pm Hills Elementary
Wednesday
1:30-2:00 pm Oaknoll East
2:30-3:00 pm Sidekick Coffee & Books
3:15-3:45 pm Weber Elementary
4:10-4:30 pm Lincoln Elementary
Thursday
9:00-10:00 am Panera Bread, Sycamore Street
10:15-11:00am Mercer Park
11:15 am-12:00 pm First Avenue HY-VEE
2:15-2:45pm Longfellow Elementary
3:00-3:30 pm Grant Wood Elementary
3:45-4:30 pm Twain Elementary
5:00-5:30 pm GreedState Credit Union, Mormon Trek Blvd.
Friday
1:00-1:45 pm Walmart
2:00-2:45 pm Waterfront HY-VEE
3:15 pm-3:45 pm Breckenridge Estates
4:00-4:30 pm Alexander Elementary
Services will be unavailable in observance on January 17 (Martin Luther King Day) and May 30 (Memorial Day).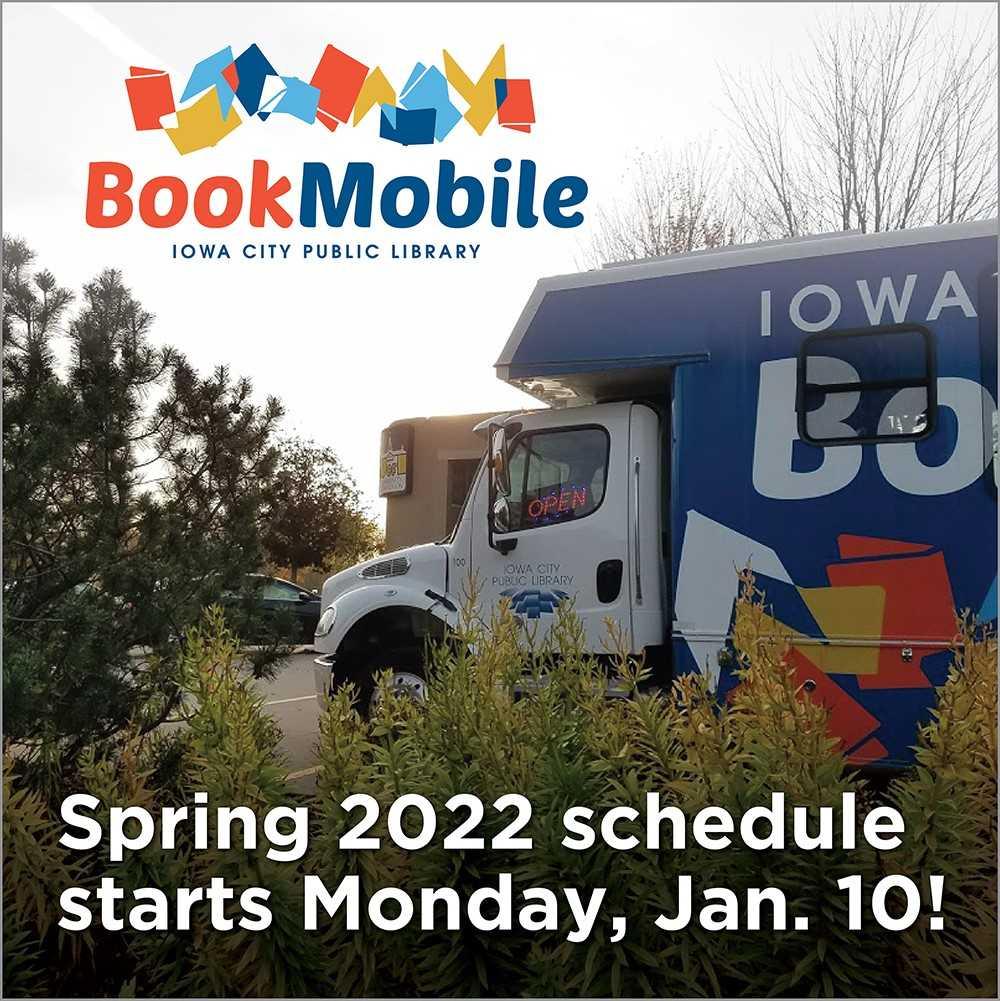 The Bookmobile will not operate on days when inclement weather would result in hazardous driving or service conditions, including any day the Iowa City Community School District cancels classes due to weather.   
In accordance with municipal and county mandates, all individuals visiting the ICPL Bookmobile are required to wear masks and maintain a social distance of at least 6 feet. Hand sanitizer and masks will be available to members of the public.
The latest information about the ICPL Bookmobile, including schedule updates, can be found online at icpl.org/bookmobile.
For more information, you may contact the Library by phone at 319-356-5200 or through virtual chat at icpl.org/services/ask.