Posted by Meredith on Tuesday, Feb 4, 2014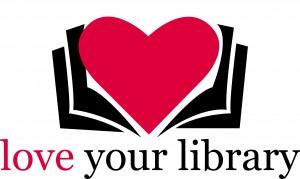 What do you love about the Iowa City Public Library? Our month-long Love Your Library celebration gives you a chance to share what makes ICPL special!
Look for our Love Your Library display on the Library's first floor. It will include a Valentine's Day box for you to leave us a Valentine, which may become part of our Love Your Library display, and information about other Love Your Library events.
Are You Up for a Challenge?
The Iowa City Public Library Friends Foundation is challenging new and lapsed donors to give to the Library in February. If a total of $1,000 in donations is received, a matching gift will be made by the Friends Foundation Board of Directors.
Tax deductible contributions can be made online (www.icpl.org/support/donate), or by depositing a check or cash in the collection box inside the Library. Make a donation in the name of a loved one, and they will receive a special Valentine thank you from the Foundation.
BOGO at The Book End
The Book End bookstore will have special Buy One, Get One Free coupon customers can use throughout February. The Book End bookstore is located on the Library's second floor.
Get Crafty
Materials for you to make your own Love Your Library bookmark will be available on the Library's first floor near the Love Your Library display.
Celebrations in the Children's Room
Families are invited to celebrate Valentine's Day with stories and crafts during Sunday Fun Day from 2 to 4 p.m. on Sunday, Feb. 9.
Preschool Storytime from 10:30 to 11 a.m. on Thursday, Feb. 13, will have a Valentine's Day theme.
Movie Night
Join us for the Eastern Iowa premiere of Joss Whedon's "Much Ado About Nothing" from 7 to 9 p.m. on Friday, Feb. 14, in Meeting Room A.
Tweet us
On twitter? Use the #lovemyIClibrary hashtag to tell us what you love about the Library?
Like Us
Help us reach our goal of 5,000 Facebook likes by the end of February and be in the running for an ICPL prize package. A winner will be chosen at random.
For more information, visit www.icpl.org/love-your-library.