Posted by Heidi L on Thursday, May 26, 2016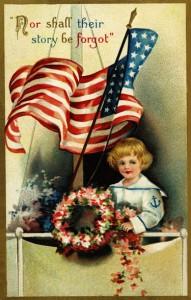 Memorial Day is always the last Monday in May, and provides us the opportunity to remember and honor those who have died in service to the United States of America.
According to the U. S Department of Veterans Affairs, Memorial Day originated as Decoration Day and was established several years after the Civil War ended by an organization of Union veterans.  The practice of decorating graves with flowers and flags dates to this time.  After World War I, this day of remembrance was expanded to include veterans lost in all American wars.  In 1971 the U. S. Congress declared Memorial Day to be a national holiday.  In 2000, Congress passed the "National Moment of Remembrance Act" which encourages citizens to pause wherever they are at 3:00 pm local time on Memorial Day "to observe a National Moment of Remembrance to honor the men and women of the United States who died in the pursuit of freedom and peace".
In Iowa City, there are three Memorial Day observances:
Ceremony to honor soldiers and sailors lost at sea will be held on the bridge on Park Road, off N. Dubuque Street, at 8:30 a.m.
Celebration at Oakland Cemetery, 1000 Brown Street, beginning at 9:30 a.m., sponsored by the Grand Army of the Republic, American Legion Post 17 and Auxiliary, and the Johnson County Military Affairs Association, and Iowa City Parks and Recreation (see their website for more details).  In case of rain, the ceremony will be moved to Opstad Auditorium at City High School, 1900 Morningside Drive.
Memorial Day Service will be held at Memory Gardens Cemetery, 2600 Muscatine Avenue, at 11:00 a.m., by the Johnson County Military Affairs Association with American Legion Post 17.
In Coralville, there will be a service at Oak Hill Cemetery, First Avenue north of I-80, beginning at 11:15 a.m. by the Coralville American Legion and Color Guard.  In case of rain, it will be moved to Coralville American Legion, 901 2nd Street, at 11:30 a.m.