Posted by Morgan on Friday, Oct 31, 2014
Not since first picking up Harry Potter and the Sorcerer's Stone have I read a book that started off full of so much life and mystery. But this is just how Mister Max: The Book of Lost Things by Cynthia Voigt begins. As dramatic as any play, the scene is set when a letter arrives inviting Max Starling's actor parents to visit the Maharajah of Kashmir. His parents say Max will be coming too, but when the steamship leaves, Max is left behind. Determined to be independent until his parents return, he decides to find a job. But jobs for twelve year old boys don't pay very well, so Max uses his experience of growing up in the theater to disguise himself and act older. To his surprise, he discovers he has a talent for solving problems for other people. He is not quite a detective and not quite a life coach, but something in between, a Solutioneer, as he calls himself. Cases start rolling in, a lost dog, a lost Baron, even a lost spoon, Max finds the solution to them all. This wonderful beginning of a trilogy weaves tricky problems and spirited characters into the the overarching story of what has happened to his parents.  A story that leaves readers both satisfied with Max's solutions and eager to find out more about Mister Max, Solutioneer.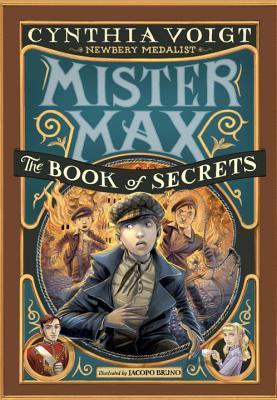 Mister Max: The Book of Secrets is the recently released second title in the trilogy, which follows Max on his most important case yet. The problems are bigger and more complex, but Max is sure he can handle them. Fires have been springing up in small businesses, but no one will talk to the police, and with a visit from the Royal family approaching, the Mayor is desperate stop the fires without a fuss. Enter Mister Max and his ability to get people talking without knowing who they are really talking to. But with the appearance of an old schoolmate, for the first time he must deal with the possibility of being recognized, which could ruin Max's independent lifestyle. Help is provided in the form of his librarian Grammie; his tutor Ari; and the sometimes irritating, very talkative Pia, who insists she is his assistant. All the while Max continues to receive troubling hints on the whereabouts of his parents. A great follow-up to the first, this story manages to leave some solutions open-ended while setting up the last book and what readers will hope to be Max's reunion with his parents.
Recent News