Posted by Jen on Friday, Oct 28, 2016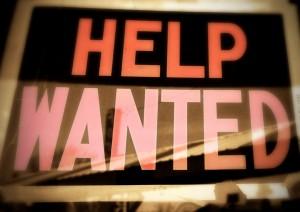 Have you recently lost a job or are trying to transition to a new career? The library can help you in a variety of ways to get you back out into the work force. Here are the top ways the library can help you:
Help you find a job opening
Access the Iowa Work Force Development site iowajobs.org at one of our computers near the Information desk on the 2nd floor without a library card or guest pass. With a guest pass or library card, you can access several websites with job postings like Craigslist, Corridor Careers, City of Iowa City Job Openings, Press Citizen, University of Iowa Jobs, or one of the staffing agency websites that post their jobs online (Team Staffing Solutions, Kelly Services, Sedona Staffing Agency, etc.)
Write or edit a resume or cover letter
If you would like personal, one-on-one assistance with creating a resume come to the Library-Community Writing Center times. University of Iowa writing tutors are here from 4-6pm on Tuesdays through May 2017 and can help you create or edit your resume.

Check-out one of the great resume and cover letter writing books the library has in its collection. Each gives you great tips and tricks for creating a resume or cover letter and provides examples. A few newer titles to check-out are :
The Elements of Resume Style by Scott Bennett
Unbeatable Resumes: America's Top Recruiter Reveals What Really gets you Hired

                             by Tony Beshara

Gallery of Best Resumes: a Collection of Quality Resumes by Professional Resume Writers by David Noble
Come to a class! The library periodically teaches classes on resume writing and classes on the career social networking site, LinkedIn. Visit www.icpl.org/classes to see what is being offered and register.
Apply for a job online
Most jobs require an online application. During Drop-In Tech times anyone can come in and get one-on-one assistance if they are unsure about using a computer to apply for a job online or are struggling to get through the online form. I've helped enough people with online forms to know they aren't as simple as they seem! Tech times are Monday and Wednesdays from 10 a.m. to 12 p.m. and Tuesdays 12 p.m. to 4 p.m.
Limited one-on-one assistance can be provided by the information desk on the second floor whenever the library is open, but cannot be guaranteed.
Provide you with training and study materials
The library has access to Learning Express, a database that provides tutorials and study materials on a variety of topics. With your library card, you can access the database from home and study for the HiSet or Police Officer Exam or take a course on Microsoft Excel.
Connect you with other job-related resources
Corridor Connector and Job Club (ICAD)
Individuals seeking mid and upper level employment can join the job club. This club provides members the opportunity to expand their networks and connect to jobs through meetings and meet-ups. Job seekers are encouraged to provide job leads, business cards, resumes, and other career ideas and information.
Helps low income individuals find a way to receive a two-year degree. They have developed complete training pathways for Nursing Aides, Customer Service Professionals, Office Professionals, and Welders which allow individuals to build a career in one of these fields. The program helps find funding and provides guidance and support to complete one of the pathways.
IowaWORKS Cedar Rapids Iowa City
Is a program that offers job seekers networking opportunities and weekly recruiting events. Learn to create a resume or get pointers about how to interview. You can also brush up on your computer skills or receive other training for things like CPR, OSHA, manufacturing or forklift operating. IowaWORKS is a collaboration of workforce partners within the Cedar Rapids and Iowa City area.
Jobseekers can access the Iowa Workforce Development portals at the library to search for jobs or file an unemployment claims. Training and other assistance such as creating a resume, registering for work on the Iowajobs.org website, or career investigation can be done at the Workforce Development Office.  The Iowa City office is located at Eastdale Plaza 1700 S 1st Ave, Suite 11 B and their phone number is 319-351-1035.
Recent News