Posted by Meredith on Wednesday, Jul 13, 2016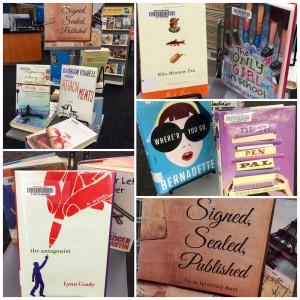 Receiving a letter in the mail was a big deal when I was a child. It didn't happen often, so the days I'd come home from school and find an envelope with my name sitting on the kitchen table were treasured. I'd rip it open and start reading before taking off my coat, devouring the words the sender shared with me.
I think it's my love for mail that launched my love of epistolary novels – books written as a series of documents, such as letters and journal entries. There's something real about these stories because the reader instantly becomes part of the character's personal life. Then again, there's also a thrill that comes from reading another person's journal – even if they are fictional.
You can check out some of my favorite epistolary novels on the new pop-up display on the Library's first floor, located near the Help Desk. Choices include everything from young adult fiction, such as The Perks of Being a Wallflower by Stephen Chboksky, to fiction titles, including Attachments: A Novel by Rainbow Rowell.
Even school-age readers can explore epistolary novels thanks to Rachel Renee Russell's popular Dork Diaries series, Jeff Kinney's Diary of a Wimpy Kid books, and the Dear America titles which tell fictionalized accounts of historic events through a young person's diary and letters.
Of course, readers who prefer epistolary novels for their realness can't do better than nonfiction epistolary books, such as Anne Frank: The Diary of a Young Girl. My personal favorite is 84, Charing Cross Road by Helene Hanff. This collection of letters between Hanff, a writer in New York City, and Frank Doel, a book vendor in London, allows readers to see how a simple correspondence between book lover and book seller can evolve into a decades-long friendship. We also have the DVD of the movie adaptation starring Anne Bancroft and Anthony Hopkins in our collection.
If reading books written as letters make you long for the days before text messaging, read Simon Garfield's To the Letter: A Celebration of the Lost Art of Letter Writing or Nina Sankovitch's Signed, Sealed, Delivered: Celebrating the Joys of Letter Writing. Both authors delve into the history of written correspondence in a way that may inspire you to write a letter of your own.
Categories
Recent News