Posted by Meredith on Friday, Dec 1, 2017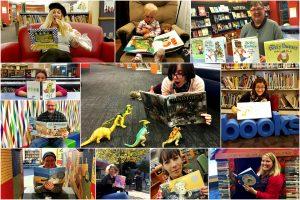 November was National Picture Book Month. To celebrate our love for picture books, ICPL staff shared photos of their favorites on social media platform all month long. The result was a list of beloved books, both old and new. If you missed seeing them the first time around, here's every book we recommend:
Shawna: Mister Bud Wears the Cone by Carter Goodrich
"Carter Goodrich's stories featuring Mister Bud and his brother Zorro teach some great lessons about pets, siblings, and friends. Also the illustrations are simply adorable and hilarious!"
Erik: The Bear Ate Your Sandwich by Julia Sarcone- Roach
"I really love the pastel artwork and the bear's big hungry eyes as he makes his journey to the delectable sandwich! And just prepare yourself for a wonderful twist at the end!"
Morgan: Dinotopia by James Gurney
"This childhood favorite of mine follows two shipwrecked travelers as they settle into new lives on an island lost to time, where humans and dinosaurs live side by side in a utopic setting. The imaginative illustrations are beautifully detailed and add realistic life to this fantasy world."
Anne: Blueberries For Sal by Robert McCloskey
"Blueberries for Sal is my favorite picture book because of the funny, gentle story and the gorgeous, unusual blue-and-white illustrations. It is a fond favorite from my own childhood, and because it is about mothers and children, I enjoy reading it to my daughters now. It also has the best endpapers I've ever seen in a book!"
Angie: The Little House by Virginia Lee Burton
"This timeless classic was introduced to me as a small child and is a beautiful book about various changes going on in your surroundings that many children will definitely enjoy for many years! The Little House learns the true meaning of 'There's no place like home' when a growing civilization is built around it over the years. Throughout the little pink house has the most charming, life-like face, and as a child I always wanted to live in it. In some ways, I still do!"
Mari: Nanette's Baguette by Mo Willems
"This is the best read aloud book ever! It's impossible to make it through the story without giggling! Read this to find out if Nanette will get the baguette from baker Juliette or if she will soon be beset with regret!"
Karen: Full of Fall by April Pulley
"I love autumn; it's always been my favorite season. Growing up in New York and living in Vermont, the leaves are glorious and celebrated. Author April Pulley Sayre's newest photo-illustrated picture book, Full of Fall, evokes this love and appreciation of the season, too."
Bond: When You Were Born by Emma Dodd
"One of our children's librarians (Casey) put this in my hands when I was a brand new mom and I've been reading it to my daughter ever since. It's the sweetest book with incredible illustrations that sparkle and shimmer on the page. It is perfect at bedtime because the prose is so peaceful and it flows gently along. I've bought more than one copy to give as a gift to new parents as well!"
Casey: Egg by Kevin Henkes
"Egg by Kevin Henkes is a fabulous read aloud for the whole family—if you're looking for Christmas gifts be sure to check this one out."
Chloe: The Mysteries of Harris Burdick by Chris Van Allsburg
"I have always been fascinated with exploring the unknown. This book is a collection of art from Harris Burrick, an illustrator who mysteriously disappeared leaving only his pictures and short captions but no stories. Adults and kids alike will have fun imagining the narrative possibilities in this book!"
Heidi L.: The Library by Sarah Stewart
"A sweet story, written in verse, about reading, books, and a library. Bonus: there's a kitty or two on most pages."
Meredith: Ox-Cart Man by Donald Hall
"I remember my kindergarten teacher reading this to our class and I loved how the family had a plan for every season, year after year. Now, as an adult with an affinity for checklists, I love it even more."
Beth: Skippyjon Jones by Judy Schachner
"I love Judy Schachner's Skippyjon Jones series! I had a Siamese as a child and Sippyjon reminds me so much of him -always playing where he shouldn't be. More than anything he wants to be Skippito, a brave Chihuahua. Schachner's use of silly rhymes and fun vocabulary makes these fun to read aloud, too."
Kara: Don't Let the Pigeon Drive the Bus Bookmobile by Mo Willems
"I was a bus driver when I was in college and it was one of my favorite jobs. I understand the Pigeon's curiosity about driving a big vehicle. Now, I drive the Bookmobile and we have a lot of children who ask about driving the Bookmobile because they are curious."
Stacey: Narwhal: Unicorn of the Sea by Ben Clanton
"Where else can you hear the story of new friends who both fear they've imagined the other? That's what happens in 'Narwhal: Unicorn of the Sea,' a quick and punchy book about a narwhal and a jellyfish."
Heidi K.: The Very Hungry Caterpillar by Eric Carle
"I have vivid memories of methodically checking out every Eric Carle book in my school's library when I was in kindergarten. I loved his paper collage artworks and would try to replicate them. I became an aunt for the first time when I was nine years old, and The Very Hungry Caterpillar was a hit with my first niece and nephew. It was so much fun to share my favorite kid's books with them when I was still a kid!"
Sue: Ragweed's Farm Dog Handbook by Anne Vittur Kennedy
"I recently checked this out on a whim for a 6-year-old and discovered it is one of the funniest books ever!"
Jason: George and Martha by James Marshall
"A classic series of short funny and odd stories of two hippo best buddies."
David: I'm Bad by Kate & Jim McMullan
"I like this book because I've never outgrown my obsession with dinosaurs and because I have a habit of saying 'I'm bad' all the time. I relate to this story on a spiritual level."
Melody, featuring her toddler: Dinosaurs Don't Have Bedtimes! By Timothy Knapman
"Dinosaurs Don't Have Bedtimes illustrates a toddler going through his nightly routine as if he were a dinosaur. Staff at the Children's Desk recommended this book to help a child settle down for sleep, and my child loves looking at pictures of this kid playing and having fun."
Mara: Chester's Way by Kevin Henkes
"Chester and Wilson are two inseparable friends who do absolutely everything together, including cutting their sandwiches in the same way. When Lilly moves into the neighborhood, they don't know what to think of the highly spirited and wildly creative new neighbor. It's very sweet to see how they come to appreciate each other's vasty different personalities and form a fast bond of friendship."
Maeve: Millions of Cats by Wanda Gag
"I grew up in a multi-cat family and Millions of Cats by Wanda Gag is one of the first books I remember reading. I liked the how the number of cats grew from hundreds to thousands to millions and then billions of cats."
Morgan:  Over the River & Through the Wood by Linda Ashman
"I love this updated version of the classic Thanksgiving poem and song. Each branch of this diverse family takes a different transportation method to head home and each meets a delay along the way. Happily, they are each saved by an enormous sleigh, bringing them all together at Grandma and Grandpa's house in time for a holiday feast."
Lillie: The Kissing Hand by Audrey Penn
"When I was younger and worried about going to school, my mom would read me The Kissing Hand. My mom gave me our copy of the book the day she moved me into my freshman dorm room. It reminds me that my parents' love is with me wherever I go."
Amanda: Drum Dream Girl by Margarita Engle
"This gorgeous book is full of bright colors and music! It's about a Chinese-African-Cuban girl who broke the rules and became the first female drummer in Cuba. Even better? It's the true story of Millo Castro Zaldarriaga, who became a famous jazz drummer and performed at FDR's birthday celebration!"
Mitch: The Night Gardener by Terry Fan and Eric Fan
"I absolutely love the illustrations and message of the book. Watching the town and townspeople progress from dreary gray to vibrant green is so fun to watch, and the message about the importance of community really resonates with me. It's a wonderful bedtime book for kids, and I can only hope that they enjoy it as much as I did!"
Paul: Balderdash!: John Newbery and the Boisterous Birth of Children's Books by Michelle Markel
"My selection is what is known as an Informational picture book, which may sound off-putting and boring, but Balderdash!, the story of John Newbery, that's right, the guy the award is named after, is anything but. It is so fun and entertaining John himself would truly be proud."
Amy: Miss Rumphius by Barbara Cooney
"Miss Rumphius was one of my favorite books as a child. I loved reading this story with my grandma. Like Miss Rumphius she lived by the sea, loved to travel and made the world more beautiful."
Nathan: If You Give a Cat a Cupcake by Laura Numeroff
"As self-proclaimed Cupcake Connoisseur, If You Give a Cat a Cupcake has always been a favorite. I highly encourage baking a batch, or two, of the cupcakes of your choice to go along with the read!"
Susan: Betty Bunny books by Michael Kaplan
"One of the joys of being a grandmother is discovering new picture book characters that weren't around when your kids were little, and Betty Bunny is one of my favorites!"
Categories