Posted by Meredith on Monday, Apr 27, 2015
May is National Bike Month and the Iowa City Public Library is ready to celebrate Bike to Work Week May 3 through May 8.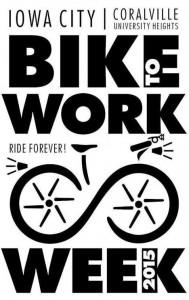 Join us at Wheely Fun Bike Basics from 6 to 7:30 p.m. Monday, May 4, in Meeting Room A to learn basic bicycle maintenance. This event, co-sponsored by the Iowa City Bike Library, will show participants how to change or patch a flat tire, and adjust brakes and gears.
Bikes and Books will be held from noon to 1:30 p.m. Thursday, May 7. Bring your lunch and participate in a book discussion about bikes. We'll share books about biking, books you should take biking, bike maintenance titles, and books by bicycling authors.
Bike to Work Week is supported by the cities of Coralville, Iowa City, and University Heights, Johnson County, and Think Bicycles of Johnson County.
The National Bike to Work Week celebration is scheduled for May 11 through May 15.
For more information, contact the Library at (319) 356-5200.
Categories