Posted by Meredith on Wednesday, Jun 26, 2013

Jane Austen's Pride and Prejudice turns 200 this year. For two centuries, the classic novel of manners has remained at the forefront of pop culture, spawning parodies ("now with ultraviolent zombie mayhem"), re-imaginings (what if the narrator was a cat?), sequels (Austen meets Agatha Christie), numerous film and television adaptations, and even a web series. It's continually ranked high on lists of readers' all-time favorite novels, beating out heavyweights like the Harry Potter series and classics by the likes of Charles Dickens and the Brontë sisters.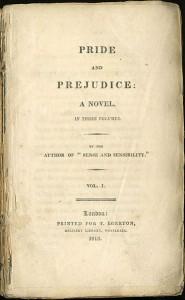 In 2003, it placed second behind J.R. Tolkien's The Lord of the Rings in the BBC-sponsored "Nation's Best-loved Novel" competition. Then, in 2007, it ranked first in World Book Day's "Most Precious Book" poll, besting Tolkien's epic fantasy novel.
In honor of Pride and Prejudice's bicentennial, the Library is celebrating Austen, her novels, and her influence, with a series of July events. Watch three different movie adaptations of Pride and Prejudice, including a Bollywood musical version; learn more about Austen's private life from Coe College professor Melissa Sodeman; or read your favorite Austen passage aloud at our Jane Austen tea party.
A Portrait of Jane Austen
Melissa Sodeman, English professor at Coe College, discusses the life of Jane Austen.
When: Tuesday, July 9 from 7-8:00 p.m.
Where: Meeting Room A
Movie Screening: Pride & Prejudice (1940)
Oscar winners Laurence Olivier and Greer Garson star in the first big screen adaptation of an Austen novel. Interesting fact: Aldous Huxley, best known for the novel Brave New World, is one of seven credited screenwriters.
When: Thursday, July 11 from 7-9:00 p.m.
Where: Meeting Room A
Two Minute Jane: A Read Aloud Celebration
Celebrate Austen's work by reading aloud your favorite passage from any of her six novels. Each reading should be no longer than two minutes. Tea and biscuits will be served.
When: Tuesday, July 16 from 12-1:00 p.m.
Where: Meeting Room A
Movie Screening: Bride & Prejudice (2004)
Aishwarya Rai Bachchan and Martin Henderson star in this Bollywood interpretation of Austen's classic novel. Interesting fact: This film is the second Austen adaptation to be relocated to India. The first was I Have Found It, based on Austen's Sense and Sensibility.
When: Thursday, July 18 from 7-9:00 p.m.
Where: Meeting Room A
Movie Screening: Pride & Prejudice (2005)
Directed by Joe Wright (Atonement), this production received four Academy Award nominations, including one for Keira Knightley for her portrayal of Lizzie Bennet. Matthew Macfadyen co-stars as Mr. Darcy. Interesting fact: In the beginning of the film, Lizzie is shown reading a novel called First Impressions, which was the original title of Pride and Prejudice.
When: Thursday, July 25 from 7-9:00 p.m.
Where: Meeting Room A
###
Follow us:
Facebook
www.facebook.com/icpubliclibrary
Twitter
twitter.com/ICPL