Posted by Meredith on Saturday, May 24, 2014
The Iowa City Public Library's Summer Reading Program for adults – Make the Library Your Laboratory – begins June 1. Registration begins that day, too. Participants can register for the Summer Reading Program at the Library or online at www.icpl.org/srp.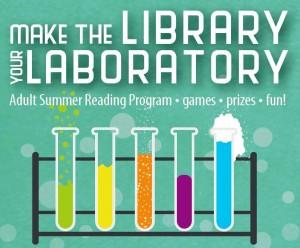 Each participant will receive an oversized bookmark to track their progress in meeting summer reading goals. Adults can either read five books, or read three books and attend two Summer Reading Program events, to receive their first prize: an Iowa City Public Library beach bag. The bookmark is then entered into a drawing for the grand prize: a tote bag filled with signed books and a Kindle Fire.
Anyone who completes their bookmark early can pick up a Bonus Game Card. Completing the game card will result in more entries for the grand prize.
Movies, book discussions, and hands-on presentations are among the list of adult Summer Reading Program activities, beginning with a screening of Ghostbusters at 7 p.m. on Thursday, June 5. Thomas Maltman, author of the 2014 All Iowa Reads selection, Little Wolves, will be at the Library for a book discussion at 7 p.m. on Monday, June 9. A complete listing of programs can be found at http://www.icpl.org/srp/adults and on the back each bookmark.
Make the Library Your Laboratory continues through Aug. 2. For more information, call the Library at (319) 356-5200.
Categories