Posted by Meredith on Tuesday, Mar 25, 2014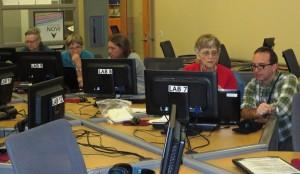 The Iowa City Public Library has released its adult technology class schedule for April.
Library Assistant Jennifer Eilers will teach a graphic design class using GIMP, a free, graphic design and photo editing software with similar capabilities as Adobe Photoshop and Illustrator, from 10 to 11 a.m. on Friday, April 11, and again from 5:30 to 6:30 p.m. on Monday, April 21.
Patrons in the class will learn the basics needed to create their own invites, cards or graphics such as cutting out photos, finding and inserting great fonts, and creating shapes. It is a great way for patrons to learn some new computer skills, have fun and get creative. GIMP can be downloaded for free at gimp.org.
Eilers and Adult Services Librarian Candice Smith will host a scanning class from 10 a.m. to noon on Saturday, April 19. Patrons can bring three to five pictures to scan, edit and enhance. The first part of the class will be devoted to scanning photos and the second part of the class will be on editing the photos they just scanned. Patrons can learn to improve their photos' composition, coloring, exposure, and blurriness or graininess by using the GIMP software.
The adult technology classes are held in the Library's Computer Lab on the second floor. Classes are free, but space is limited to 10 people per program, so patrons should register early.
Visit www.icpl.org/classes to register online. You can also register by calling the Library at (319) 356-5200.
Categories