Posted by Meredith on Tuesday, Jul 19, 2016
Have you ever wanted to learn more about the sport of rowing?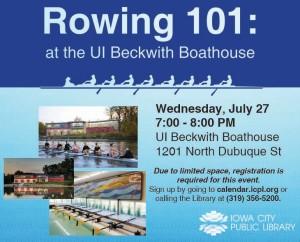 Join Danelle Stipes, assistant director for the University of Iowa Recreational Services Hawkeye Community Rowing Program, for Rowing 101 on Wednesday, July 27, from 7 to 8 p.m. This event, which will take place at Beckwith Boathouse, includes a tour of the boathouse and an introduction to programs offered to the community.
The Beckwith Boathouse is located on the Iowa River at 1201 North Dubuque Street. The program is free, but due to limited space, registration is required.
To register, go to calendar.icpl.org or call the Library at 319-356-5200.