Posted by Meredith on Tuesday, May 13, 2014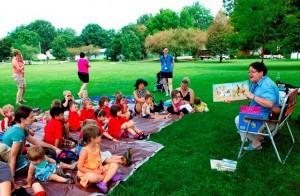 The Iowa City Public Library's Stories in the Park summertime outdoor reading series begins June 11 and continues through Aug. 1.
Stories in the Park will be held at 10:30 a.m. Wednesday mornings at Willow Creek Park, 117 Teg Dr., and 10:30 a.m. Friday mornings at Mercer Park, 2701 Bradford Dr.
In the event of rain, the Wednesday storytimes will be held at the Library and the Friday storytimes will be cancelled. There will be no storytime on Friday, July 4.
Stories in the Park is an outdoor storytime geared toward children between the ages of three and six. All children in attendance need to be accompanied by a parent or adult caregiver.
"We get grandparents with their grandchildren, moms and dads with their kids, and some daycares or Neighborhood Center children are able to attend," Children's Librarian Katherine Habley says. "After the 30-minute storytime, we play games out in the grass, blow bubbles, throw Frisbees, draw with sidewalk chalk, or have fun with hula-hoops. Everyone has a great time and parents often bring a picnic lunch to enjoy afterwards."
Children should remember to bring their Library Card, as there will be a selection of books available for check out at each storytime. Children who don't have a Library Card can sign up at icpl.org/cards. Library staff will be available to issue new Library Cards at Stories in the Park.
This event is co-sponsored by the Iowa City Parks and Recreation Department and the Iowa City Public Library. For more information, please call the Library at (319) 356-5200.