Posted by Kara on Tuesday, May 26, 2020
Are you ready to tell your story?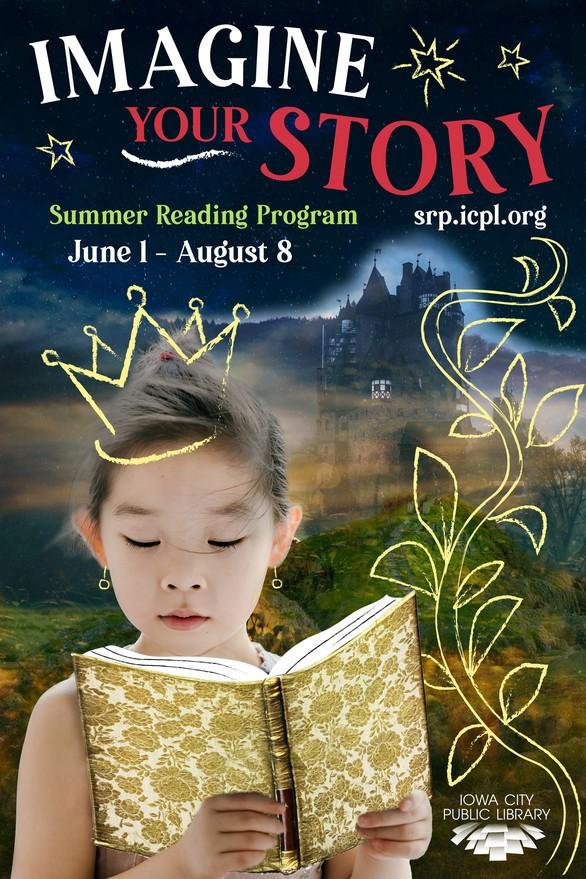 The Iowa City Public Library's 2020 Summer Reading Program, "Imagine Your Story," will be held June 1 through August 8, 2020. Online registration begins on June 1, 2020 and all programs will be offered online. Everyone who completes the Summer Reading Program activities will be signed up for the grand prize drawing.
Registration may be completed online at srp.icpl.org, by calling the Library at 319-356-5200 or via chat or email at www.icpl.org/ask. Although the Library is closed, staff are answering telephone, email and chat questions Monday through Friday 10:00 a.m. to 6:00 p.m.
Summer Reading Program participation is free and available for all ages, babies through adults. All registrants may download a game card to track their progress in meeting summer reading goals, or they can choose to record their progress online. Program information, including games cards, will be mailed to all addresses in Iowa City, rural Johnson County, Hills, University Heights and Lone Tree.
Highlights of the 2020 Summer Reading Program include Totally Tween programs on Tuesdays, World Wednesdays, a virtual visit from the critters at Blank Park Zoo, book & movie discussions and much more.
Angela Pilkington, Children's Services Coordinator, says "This year reading in the summer is more important than ever. There are many things we can no longer do in person, but we can read a book, attend a Library program and talk about books and movies with our friends."
Iowa City Public Library's Summer Reading Program is generously supported by the Iowa City Public Library Friends Foundation.