Posted by Meredith on Thursday, May 1, 2014
Iowa City Public Library volunteers provided more than 9,400 hours of service during the 2013 calendar year – the equivalent of nearly five full-time staff members.
"We are grateful for our volunteers for giving their time and talent to the Library and our community," says Kara Logsden, the Library's Coordinator of Community and Access Services.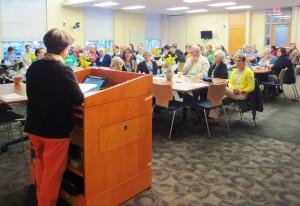 During the 2013 calendar year, 364 volunteers worked at the Library. On Wednesday, April 30, the Library said thank you with a reception and a ceremony, during which 38 volunteers received recognition awards for achieving milestone hours of service.
"These volunteers received hours of service awards ranging from 100 to 3,500 hours, representing a total of 17,200 hours volunteered at the Library," Logsden says.
Helen Baum was named the Nancy Sereduck Volunteer of the Year. Baum has volunteered in the Community & Access Services Department and The BookEnd since 2004. She was noted in her nomination for her ability to recommend a title "by providing just enough intriguing information but never spoiling the story. From politics to the environment, to history to the lives of individuals from all walks of life, her knowledge and interest in non-fiction reading was very, very broad. Her customer service was top notch."
Baum retired from volunteering this year and is missed in both departments. Logsden says she remains an inspiration for her dedication to the Library, strong work ethic, and passion for life-long learning.
The Library congratulates Baum on her achievement and thanks all volunteers for their service.
Volunteers receiving recognition awards for 2013:
100 Hour Award
Joel Barnhart
Brittney Blackburn
Amy Blessing
Abby Dickson
Joshua Franz
Teresa Hamilton
Vincent Lin
Ronald McCall
Ann Rhomberg
Barbara Stehbens
Angela Tyler
Cheryl Vowell
200 Hour Award
Beth Beasley
Philip Fontana
Erin Glenn
Emily Haworth
Kaitlin Thouvenell-Crowley
300 Hour Award
Terri Caplan
Becky Johnson
Jennifer Lam Lu
Kathy Mitchell
William Moorhead
Alexandra Murra
Corey Rew
400 Hour Award
Elizabeth Carroll
Cheryll Clamon
Jim Davis
Candice Gordon
Al Paxton
Julie Spencer
500 Hour Award
Susan Brown
Lori Cochran
Karen Eichler
Ryan Fitzpatrick
Archie Greene
1,000 Hour Award
3,500 Hour Award
Gloria Lacina
Nola Naughton