Posted by Sam on Wednesday, Nov 4, 2020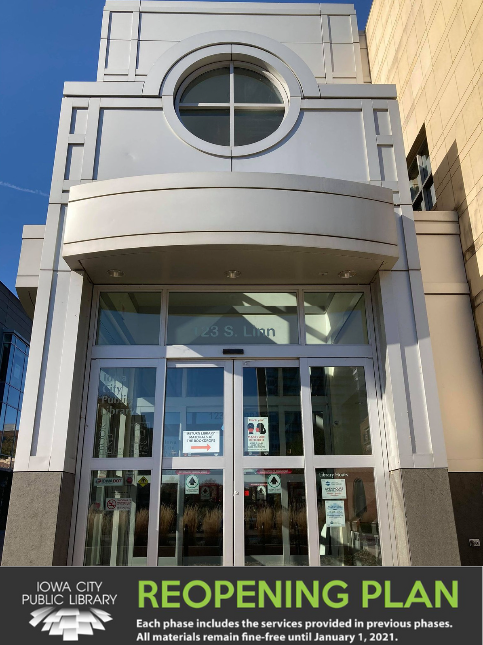 The Iowa City Public Library will scale back current services due to increasing COVID-19 infections in Johnson County. Community safety continues to be a Library priority.
Starting today, Wednesday, November 4, items will be available for pick up from the downtown Library lobby during quick visits. The following services will temporarily end: bookmobile, computer access, and DOT kiosk access.
Residents can access library items to reserve through the catalog 24/7 at icpl.org,  or call 319-356-5200 for assistance during library hours, Monday through Saturday, 10 a.m.- 6 p.m. After notification that items are ready for pick up, use the Linn Street entrance to the library lobby. Face masks and maintaining a 6-feet distance are required in the lobby. If you have COVID-19 symptoms, request mail delivery of your items. For residents who do not wish to visit the Downtown Library, mail delivery is available only to our service areas including Iowa City, Hills, University Heights, Lone Tree, and rural Johnson County.
Items can be returned to the book returns on Linn Street, or at bins at two Iowa City locations: the HyVee at First and Muscatine Avenues, or GreenState Credit Union drive up on Mormon Trek Boulevard. No late fees will be charged at least through December 31, 2020.
A library card opens doors to online access to books, movies, etc. educational and entertaining programs, children's storytimes, local history presentations are at icpl.org. Register of an Iowa City Public Library online in order to reserve physical materials as well. Library staff are available to answer questions by phone, email, or chat.