Posted by Meredith on Thursday, May 8, 2014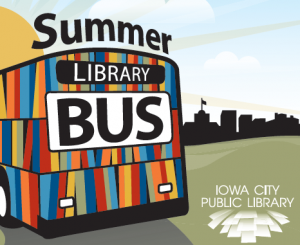 An Iowa City Public Library card is your child's ticket to ride an Iowa City Transit bus free this summer.
The Library will provide free bus rides to children through 12th grade, and the adult caregivers who are with them, on any Iowa City Transit bus route, from the day after Iowa City Schools dismiss until the day before school starts, on weekdays between 9 a.m. and 3 p.m. Eligible bus riders should show their Iowa City Public Library card to the bus driver to gain free access to the bus.
Children can catch a ride home anytime the same day with a Ride & Read bus pass, issued by showing a Library Card at any public service desk at the Library.
Parents, if your child doesn't have an Iowa City Public Library card, visit www.icpl.org/cards/ for information about how to apply for a card. Applications can be completed online, then stop by the Help Desk within two weeks to pick up your card. You can also apply in person at the Help Desk any time the Library is open. Adults, please be prepared to show photo identification (current driver's license, lease or passport) and proof of your resident address (current driver's license, mail with a current post mark; current lease). Photo identification is not required for children.
For more information, please call the Library at (319) 356-5200.
Categories