Posted by Meredith on Friday, Jun 17, 2016
Dan Wardell, the popular host of IPTV KIDS Clubhouse, will be at the Iowa City Public Library on Monday, June 27, as part of his 10th annual Iowa Public Television's Reading Road Trip.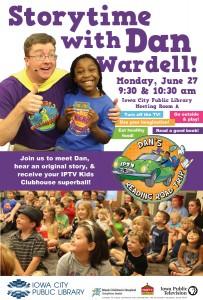 Wardell will travel to 75 local communities this summer to share an original, interactive story connected to the 2016 Summer Reading Program theme: On Your Mark, Get Set … Read!
"We are excited to welcome Dan Wardell back to ICPL as he travels across the state to promote reading," Children's Coordinator Angela Pilkington says. "His enthusiasm for books, reading and using your imagination is what the Summer Reading Program is all about."
Kids are invited to attend Wardell's storytimes at 9:30 a.m. and 10:30 a.m. in Meeting Room A. During this special event, attendees will compete against cosmic aliens during the Intergalactic Olympic Championships. Every child attendee will receive a commemorative "space orb" for their efforts.
Support for the Reading Road Trip is provided by Blank Children's Hospital, Casey's General Stores and The Coons Foundation. For more information, visit Iptv.org/clubhouse.
Categories