Posted by Meredith on Thursday, Oct 31, 2013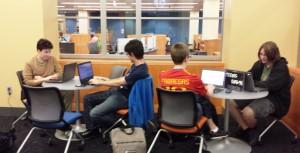 Teens, do you need help with your homework?
Come to the Koza Family Teen Center at the Iowa City Public Library from 6 to 8 p.m. on Wednesdays for drop-in homework help for students in grades 7 through 12.
Tutors from the University of Iowa's College of education will be available for one-on-one assistance with math, English, Spanish, science, and social studies assignments. Be sure to bring your textbooks, assignments, and any other materials that you'll need to complete your homework.
Teen Homework Help will be offered from 6 to 8 p.m. every Wednesday, except when the University of Iowa isn't in session.
For more information, contact Brian Visser, the Library's Teen Services Librarian, at 887-6076 or Brian-Visser@icpl.org.
# # #
Follow us:
Facebook
www.facebook.com/icpubliclibrary
Twitter
twitter.com/ICPL