Posted by Meredith on Friday, Feb 21, 2014
The Iowa City Public Library is working on a new strategic plan and needs feedback from the teens about how the Library will serve the community in the future.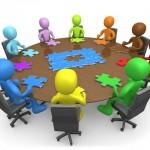 A focus group for teenage Library users will be held from 4 to 5:30 p.m. on Friday, March 7, in the Library's Board Room. Pizza will be provided for those who attend.
Registration is required. To register, call Teen Services Librarian Brian Visser at (319) 887-6076, e-mail him at brian-visser@icpl.org, or register online at: http://calendar.icpl.org/view.php?did=29224.