Posted by Meredith on Wednesday, Mar 26, 2014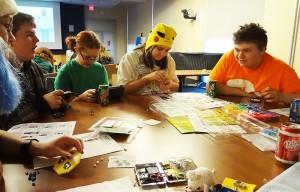 The Iowa City Public Library will host the annual Teen Anime & Manga Festival from 2 to 4 p.m. on Saturday, April 26, in Meeting Room A.
Open to students in grades 7-12, the Festival is an opportunity for teens to interact with fellow anime and manga enthusiasts, watch anime, discuss manga, win prizes, and eat massive amounts of candy sushi.
Those who wish to display their art work as part of the Artist Alley should bring their finished drawings to the Festival or do some freehand work during the event. Prizes will be awarded to select artists. Cosplay is always welcome and one lucky person will win Best Costume.
This year, we'll watch episodes from three different anime: Kamisama Kiss, the story of a girl who unwittingly takes over a job as a local deity; Girls und Panzer, about a team of high schoolers who operate armored tanks; and Say, 'I Love You', in which a girl who has sworn off friendship falls for an annoyingly charming boy.
"The Anime & Manga Festival is my favorite event of the year," Teen Services Librarian Brian Visser says. "We're watching some really great shows, too."
The Teen Anime & Manga Festival is a free event. For more information, call the Library at (319) 887-3400.