Posted by Meredith on Wednesday, Apr 30, 2014
Are you fascinated by local history? Do you look forward to Iowa City's Irving B. Weber Days every year? If you answered yes to either of those questions, be prepared to say WOW in May.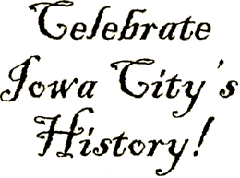 WOW -- Weber on Wednesday – is a new twist to Irving B. Weber Days, which are held every May in honor of Iowa City's unofficial historian, the late Irving B. Weber. On every Wednesday in May, the Library will host an event that delves into Iowa City's history.
"Instead of having events scattered throughout the month, we redesigned this year's Irving B. Weber celebration to focus on once-a-week programs," says Maeve Clark, the Library's coordinator of adult services.
May also is National Historical Preservation Month, and the Library will partner with The Friends of Historic Preservation for a special Saturday presentation on May 10.
"Learning about local history enhances our community. It gives us a better understanding of Iowa City and how it came to be," Clark says. "You can't plan for the future unless you understand the past."
Weber on Wednesday Events:
Archives Alive!: Teaching with WWII Correspondence
Wednesday, May 7 from 12:30 to 1:30 p.m. in Meeting Room A
Learn more about a teaching project from the University of Iowa Libraries and the Iowa Digital Engagement and Learning (IDEAL) initiative based on the transcription of letters from Evelyn Birkby's World War II scrapbook. Birkby, an Iowa native, is a longtime newspaper columnist, author and radio personality.
The Annual Irving Weber History Lecture: The History of Transportation in Iowa
Wednesday, May 7 at 7 p.m. in Meeting Room A
Leighton Christiansen, Librarian at the Iowa Department of Transportation, will present "A Journey in Transportation: The Iowa DOT Centennial and Iowa Transportation History Highlights," including a focus on Iowa City and Johnson County.
How East Iowa City Came To Be
Wednesday, May 14 at 7 p.m. in Meeting Room A
This presentation by Dr. Thomas Schulein will trace the history of early manufacturing concerns in the neighborhood and describe the suburban development of "East Iowa City" up to the present.
Caring for Keepsakes: What do you do with a family memento or keepsake?
Wednesday, May 21 at 7 p.m. in Meeting Room A
Preservation staff from the University of Iowa Libraries, Archives, Special Collections, and University Museums will talk about caring for your collections at home. Have a question about a special heirloom? Bring it with you. After a brief presentation, you can ask the experts how to best store and protect your keepsakes for future generations. Please note: No appraisals will be done.
ScanIt! @ ICPL - The Digital History Project
Wednesday, May 28 from 5 to 8 p.m. in Meeting Room A
Do you have old photographs of Iowa City or Johnson County or family photos that have recognizable locations or buildings in the background? Would you like to turn them into digital images and donate a copy to ICPL's Digital History Project? During ScanIt!, librarians will teach you how to scan photographs. Storage media (CDs) will be provided. Appointments are one hour each and registration is requested. Drop-ins will be accommodated if space permits. To register, call the Library at 356-5200.
A bonus event will be held at 2 p.m. on Saturday, May 10, in Meeting Room A. Join us as local historian Bob Hibbs presents "College Green Park: Covered Wagons to Tornadoes." Sponsored by the Iowa City Public Library and the Friends of Historic Preservation, this program is held in conjunction with the Friends of Historic Preservation's Historic House Tour of the College Green neighborhood on May 11. For additional information, visit http://www.ic-fhp.org/