Posted on Friday, Jun 7, 2013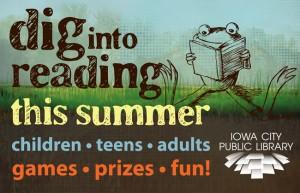 The Iowa City Public Library Summer Reading Program (SRP) launched this week, featuring activities for every level of reader and the possibility of winning a Kindle Fire. Over 1,500 people have registered in person and online, from toddlers to grandparents.
The SRP consists of four age-appropriate groups, each with a different, though related, theme: "Dig with Me" is for Babies and Toddlers; "Dig into Reading" is for school-age children; and the teen and adult programs are both themed "Groundbreaking Reads." Each program features an interactive game board and accompanying activities list. If a participant completes every activity on the list, she will win an SRP t-shirt, and be entered to win a Kindle Fire.
Participating in the SRP is a great way for families to keep reading during the summer break from school. The program provides the opportunity for all readers to read for entertainment in a relaxed setting. Denise Rehmke, Library Coordinator for the Iowa City Community School District, notes, "We encourage all families to make time for reading year-round, but particularly in the summer, so that children stay in the habit of reading, increasing literacy, fostering the love of reading, and keeping them on track for better academic performance when they return to school in August."
This year, the Library is pleased to offer online registration for the SRP. Sign-up is as simple as visiting www.icpl.org/srp. Downloadable game boards and activities lists are also available on the website, in addition to the SRP schedule of events. Patrons are welcome to register in person at the Library, too. Please visit the Help Desk or the Reference desk and a librarian will be able to assist you.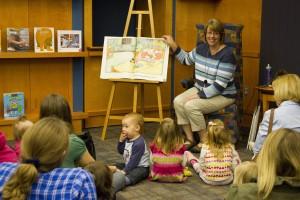 In addition to the game board and activities list, the SRP is replete with wonderful events, including the annual Children's Day in the Ped Mall, held this year for the first time on a Saturday (June 8, 10:00 a.m. – 3:00 p.m.). Recurring events include Book Babies (Fridays, 10:30 a.m. and 1:30 p.m.), Toddler Times (Mondays and Thursdays, 10:30 a.m.), Stories in the Park (Wednesdays, 10:30 a.m. at Willow Creek Park; Fridays, same time, at Mercer Park), and regular Thursday events for preschoolers at 10:30 a.m. in Meeting Room A, such as a Bob the Builder DUPLO event and digging for dinosaurs with a paleontologist.
###
Follow us:
Facebook
www.facebook.com/icpubliclibrary
Twitter
twitter.com/ICPL
Recent News