Posted by Heidi L on Friday, Aug 19, 2016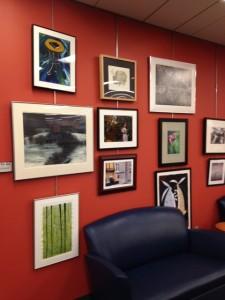 One of the Library's more unusual collections is our circulating art.  Most pieces are framed prints, but a substantial number are original artworks by local artists and include photographs, mixed media, screen prints, watercolors, and oil paintings.
It is a great time to pick out a piece of art to take home--the selection is always a little better during the summer when the University population shrinks.  But that won't last long now, with students coming back and classes set to begin next week.  We have about 400 pieces to choose from.  Browsing what is available is the easiest way to find what you want, but you can also see images of our original art in the catalog and place a hold for something you like.  Just look up "Art Purchase Prize Collection" and click on the link to "View art work in this collection".
The loan period for art prints is eight weeks, and each borrower is limited to two at a time.  The collection is located on the first floor, between the Fiction books and the children's room.  We display as many as we can on the walls there, but many are stacked in the bins as well.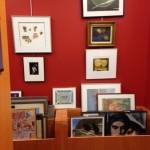 The original art collection has been built up over the years thanks to gift funds.  There is an annual competition from which the Library's Art Advisory Committee selects and purchases several works to add to our collection.  This year's competition is a little different, with the theme of "New Covers For Old Classics" (see more information here.)  But hurry--deadline for entries is September 2, 2016.
In the meanwhile, enjoy our remarkable art collection.  I always have two checked out, and these are my current favorites:  "Apples #4" by Yvette Jury, and "In Carol's Garden" by Susan Coleman.