Posted by Maeve on Tuesday, Jun 21, 2016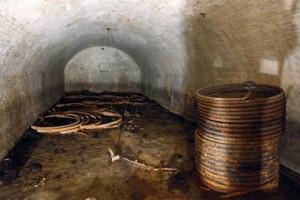 The Iowa City Press Citizen ran a story today about the beer caves found under Brewery Square! The story by Andy Davis is about the work the Office of the State Archaeologist and the University of Iowa Geographical and Sustainability Sciences Department in making high definition 3-D images of the caves.  Seeing the maps will bring me even closer to my dream of getting to actually down in them.   At Weber Days last year, Marlin Ingalls from the Office the State Archeologist, gave a talk on the not only the beer caves below Brewery Square, but the other caves in Iowa City as well as the caves in Cedar Rapids.  You can watch the program, Prohibition, Breweries and Beer Caves, and learn about the history of the brewers, when Iowa City went dry, (it was more than once), and find out about the beer riots.
If you want to read more about beer in early Iowa City history Irving Weber has also written about bars, brewers and all sorts of carrying on.  You can read Irving Weber's columns through the University of Iowa's Iowa Digital Library.  And if you are interested in learning about beer and finding the best ones to try,  the library can help you with that too.
Recent News